Day 0: Arrival
Bruce Rabe, "lapsed paleontologist" (his own description), arrives at White Rock and we get together for dinner at The Bandelier Grill. The Bandelier Grill is one of two eating establishments in White Rock, the other being a McChinese. The Bandelier Grill has changed hands several times and its quality has fluctuated accordingly; while my first visit to the present incarnation was marred by a large population of houseflies, the meal with Bruce was untroubled by disgusting insects (if you don't count me) and the food was pretty good. Made plans for the subsequent day.
Day 1: Shatter Cones
We drove down to Santa Fe and went hunting for shatter cones. Our directions were imprecise and, after one foray into the hills, we returned to Santa Fe and sought a better map. The local gun shop in the mall had a clerk who actually knew what a topo section map was, but unfortunately he didn't sell them; he did, however, give us directions to the local REI, where we got better maps and reminisced about younger days and hippie chicks. (I suspect Bruce's reminiscences were more authentic than mine, but then he may have thought that about me as well.) Returned to the hills, and, after heading a short distance down the wrong road, found ourselves at the right location.
Note: the Fount of All Human Knowage gives coordinates that are several miles in error. No, I'm not going to correct Wikipedia. That would be original research, which is strictly forbidden.
Yup, shatter cones. Rather dramatically visible from the highway with just the right lighting angle, which we fortunately had. Bruce and I both pronounced the nest of shatter cones Way Cool. Regrettably, they do not show up well on Google. Map. However, we got some hand samples: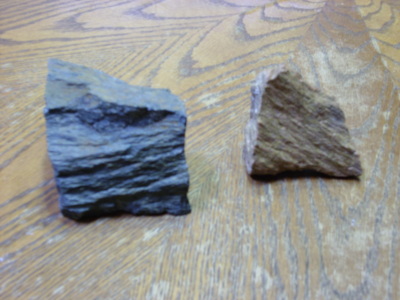 Bruce suggested these might be useful for the office. Employing a shatter cone against a recalcitrant cow-orker seems somehow fitting.
Returned to town and discovered that Little Anita's, the best inexpensive New Mexican food around, is no longer in business. Reversed course and located El Parasol, the second best inexpensive New Mexican food around. Then headed off to follow a geological road log to Ghost Ranch. Highlights along the way included Camel Rock, a wind-shaped feature in the Tesuque Formation of the Santa Fe Group, and Pojoaque Formation, an impressive set of hogbacks north of, um, Pojoaque. Google Map doesn't do the Pojoaque Formation justice.
You may be wondering why I'm not posting my own photographs. Good question, to which I do not have a good answer. Absent-mindedness?
Back into the hills northeast of Espanola for some more impressive views of erosional surfaces and the contact between the relatively young (only a few tens of millions of years) Santa Fe Group and the Precambrian rocks in the Sangre de Cristo Mountains to the east.
Back to the main Chama highway and a nice view of Black Mesa. Now, you may possibly be thinking, "Black Mesa? I thought that was in <insert almost any Western locality>" and you would not be wrong. The Basin and Range are full of old basalt lava flows over light-colored continental sediments and half of them are named Black Mesa. There are two in Espanola Valley alone and we passed them both on this trip.
On the way out to Black Mesa, the road crosses the Lobatto Formation which at 14 Mya is the oldest known volcanic formation from the Jemez volcanic center. It had thoroughly baked the sediments underneath, much to Bruce's delight.
North of Black Mesa the highway enters the Abiquiu Embayment, which I gather is a kind of fault-slumped region on the western edge of the Rio Grande Rift. Up ahead is a rather dramatic mesa, Sierra Negra, which from its name you might gather is yet another mesa topped by black basalt. There is, however, a fault running through the middle and a cinder cone on top, which add interest.
Near the highway here is Poshuinge ruins, an ancient unexcavated (presumably Tewa) ruin with an obvious buried kiva (under the clump of chaparral.) Bruce found this cool enough to forgive me for making him walk a moderately strenuous trail to a good vantage point.
Incidentally, Bruce was impressed with my ability to pronounce all these names. Of course, I was making it all up. I have no idea how "Poshuinge" is really pronounced. And I have it on good authority, now, that I've been badly mispronouncing "Tsherige" (as in Tsherige Member, Bandelier Tuff) as "shair-ee-jay" when it is actually more like "shar-gay".
Then on past Abiquiu Reservoir onto the Colorado Plateau, which, confusingly, is mostly located in New Mexico, Arizona, and Utah. This is your classical red rock desert, and it can be pretty impressive.
There was also a nice andesite (basalt?) dike at about this point, aligned roughly along a fault trace across the highway. Bruce and I had a cordial argument about whether this was an igneous dike or a sedimentary dike caused by hydrothermal action in sandstone along the fault zone, which was resolved when I beat him over the head with Goff's road log.
Then on to Ghost Ranch, which we reached just ten minutes before the museum closed. We used the time to glance over some dinosaur fossils and then inquire as to the availability of interesting books at the gift shop. (No luck.)
Retraced our route to Los Alamos.
Day 2: Meteors
Day 2 was Sunday, which I owed my family. Bruce had his own adventures in Santa Fe which he may recount (or not (as he wishes)). However, we met up at around 7:00 PM for a night of astronomy. Weather was quite cooperative with hardly a cloud in the sky at sunset.
The selected observing site was Graduation Flats. This area gets its name from its role in Los Alamos High School graduation traditions, which allegedly involve libations to Dionysus and virgin sacrifice. At other times of the year, it's a pretty good camping place, though at 9000′ altitude it can get a bit cold even in summer. It is also a fairly dark site, though at the expense of horizons that are not as clear as one might like.
I brought my 10″ Dobsonian and Bruce had his 8″ (?) Schmidt-Cassegranian. I also had an OIII filter, a gift from the Mistress of Science last March. I've found this doesn't do much for the Trifid Nebula, but it really brings out the Lagoon Nebula, makes the Eagle Nebula actually look a little like an eagle, and makes the North America Nebula almost easy. It is most spectacular, however, when applied to the Cygnus Loop: It makes the nebula really look like a shock wave, and I can even glimpse the filamentary stuff between the two sides of the loop. Bruce seemed duly impressed.
Seeing was not remarkable, alas, so Saturn was not much to look at, but it was indeed a very dark night once the moon set. I don't recall the Northern Coal Sack being quite so distinct. Bruce has a rather nice pair of binoculars; mine are walleyed and sometime I should take a screwdriver and try to fix that.
The chief attraction was supposed to be the Perseids. We saw a fair number of bright green Perseids leaving trails early in the evening, but they actually seemed to taper off as it got late. It was much colder than I expected, the sky started hazing up, and we called it quits around 2:00 AM Monday.
Day 3: Southeastern Jemez
I joined Bruce for lunch at Bob's Bodacious Barbeque. The food is still good. We were greeted by (I think) the eponymous Bob, who was curious what the Si hoc legere sics, nimium eruditionis habes! on my tee shirt meant. I believe it can be translated "If you can read this, you have too much education." He seemed relieved.
From there to Guaje Pines Cemetary. I refrained from checking in with some old friends (they'll still be there later) and we examined the Rendija Canyon Fault, which tears a fairly ragged canyon between Bandelier Tuff to the south and dacite domes to the north. I pondered hiking up to the nearest dacite dome to get a sample, so I would know just what dacite looks like; Bruce explained that volcanic rocks are approximately rhyolite-dacite-andesite-basalt in order of increasing darkness, but even geologists in the field can't always tell them apart. I refrained.
Bandelier Tuff is the light tan to pink colored rock that covers just about everything just about everywhere around the Jemez. It's the product of two ring supervolcano eruptions at 1.6 and 1.2 Mya that produced the Valles caldera and its precursor, the Toledo caldera. Geology in the Los Alamos area mostly consists of either climbing down into canyons to see what's underneath the Bandelier Tuff or climbing sizable mountains to see what's sticking up above it. We did a little of both.
We headed towards downtown Los Alamos, passing a Bandelier Tuff road cut with fairly dramatic surge beds in it. Bruce commented on the coolness of seeing pyroclastic surge beds in the middle of a residential neighborhood; fine with me as long as they aren't fresh. From there we tried to get to a couple of overlook points in the road log that have been rendered obsolete by recent construction, settling instead on the Clinton P. Anderson Overlook. This is a good place to scrutinize the Tsherige Member of the Bandelier Tuff in all its glory.
Skipped Overlook Park (seen it before.) This is where my father used to take me pistol shooting, back before it became all developed and touristy. Though I admit there is something to be said for the guard rail.
Our next stop was a road cut into a paleodome in the Otowi Member of the Bandelier Tuff that was overlain by the Tsherige Member of the Bandelier Tuff. It was way cool; you could see where a cliff was that got buried. I did climb a very treacherous slope to look at the contact surface. I could not make it clear up to the zeolitized zones marking former water levels in the nearby paleolake (produced by lava dams in the Cerros del Rio district.) Bruce neglected to get photos of me risking my neck, thereby missing an opportunity to blackmail me with the threat of turning them over to the Mistress of Science.
While reembarking, a sweet young thing stopped and asked which way to Jemez Springs. I assured her that her car was facing the right way. I didn't have the heart to add that it was another fifty miles through winding hairpin turns.
From there it was up to the Pajarito Escarpment, a fault escarpment on the east face of the Jemez Mountains. This hasn't shifted in some thousands of years, but it is capable of producing magnitude 7 earthquakes, which makes all the Santa Fe people downwind of LANL nervous.
From there to the turnoff to Graduation Flats again. We had quite an adventure; we turned right when we should have turned left at one intersection, and when we found ourselves on the edge of a cliff at an intersection of dead end roads in both directions, we kinda figured we'd missed something. Took some time to figure out, then backtracked and got on the right road.
Spectacular drive. This time I have photos of some of the views: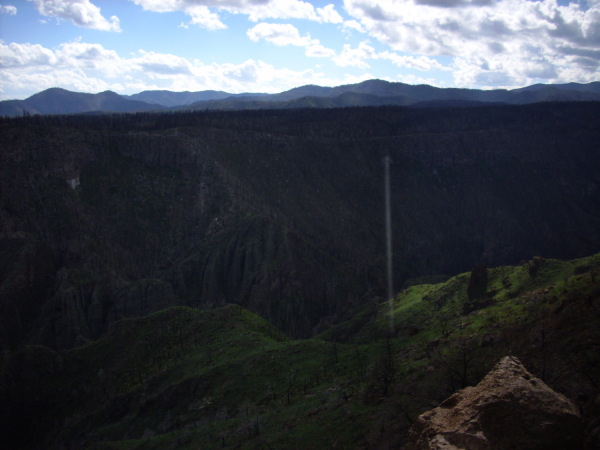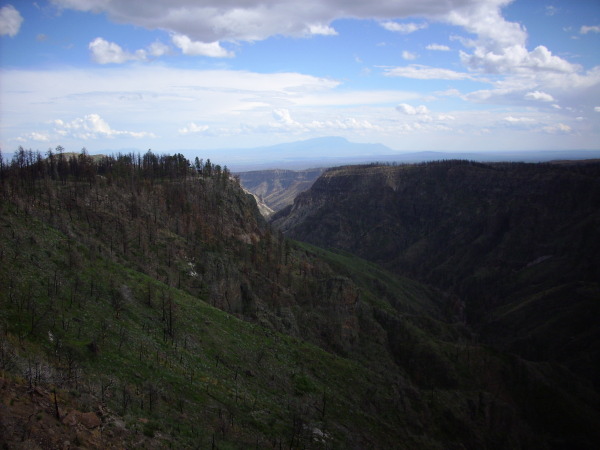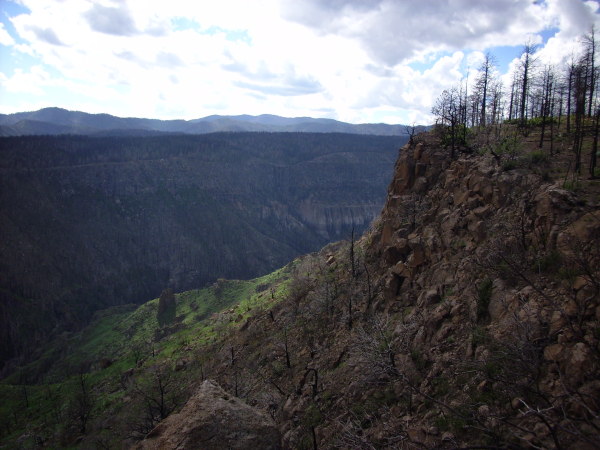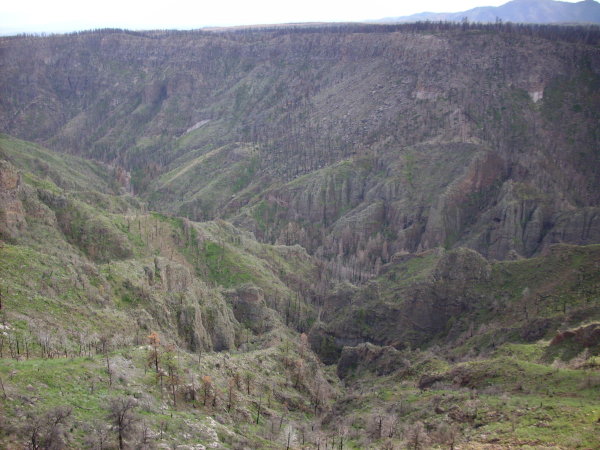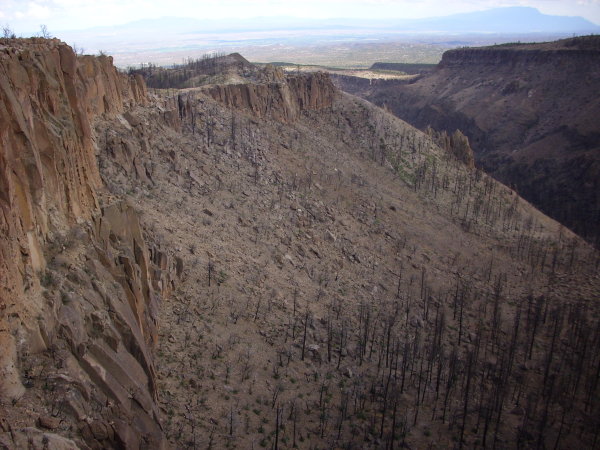 By late afternoon, we had descended the entire southeast flank of the Jemez volcano field, scrutinized much geology, seen some lovely wildflowers, and I was darn near ready to to hug a tree. Fortunately, we came to a point where the road had been washed out, which restored my healthy dislike for Nature Red in Tooth and Claw.
We had to either turn back umpteen miles or shoot the rapids. In a kinda sorta four wheel drive car. Which we managed to do.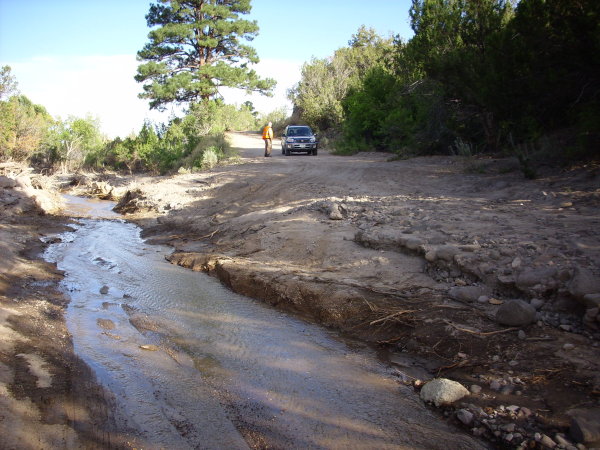 From there we drove on in to Cochiti Pueblo, discovered that Tent Rocks had closed an hour early for no discernible reason, were suitably impressed by the dam (the sixth largest dam of its type in the U.S.), and headed in to Santa Fe to a Mongolian barbeque.
I was planning on having Bruce meet the Mistress of Science and the cats, then sit out on the back deck watching for meteors, but the Mistress of Science had to work the next day and was concerned that the conversation (the deck is right next to the master bedroom) would disturb her sleep. But at least Bruce got to meet Angel, a.k.a. Ming the Merciless, who liked him, and the Mistress of Science, who didn't mind him. (Hey, she married me.) We headed out to Overlook to meteor watch. Weather was very cooperative, including some very showy distant thunderstorms, and we did see some meteors, but not a lot and it was getting hard to keep our eyes open. Called it a night at 3:00 AM Tuesday.
Day 4: Northeast Jemez
Originally this was Inside the Caldera Day. However, inside the caldera is Valles National Preserve, and we were uncertain what we would be allowed to see without advance reservations. Turns out not much, and not because of lack of advance reservations; the most interesting area is closed due to fire damage from earlier this spring. However, we got to take a nifty little tour of the area around the preserve headquarters for a paltry 5 quatloos apiece, which was worth it if only for the experience of hearing fellow tourists who had been dodging terrorists in Israel all their lives worry about a little lightning.
No, actually, they were very nice people. It just seemed ironic.
Also, we were officially registered as "geology fanatics" in the headquarters logbook. I blame Bruce.
And we could have seen the northern "moat" of the caldera complex by buying a couple of fishing licenses at $15 each. We refrained.
There is a 6-hour geology tour of the caldera offered a few times each summer by the Goff whose logbook we were following most of this trip. I think I'm geologized out this summer but I will probably sign up for it next summer.
Anyway, being deprived of the opportunity to explore the northern reaches of the caldera from the inside, we decided to view it from the outside. This trip took us up to Abiquiu again, and beyond, to a little town called Coyote whose sole claim to fame is that it is mocked in Singin' in the Rain as one of the nowhere places visited by Don Lockwood and Cosmo Brown in their starving vaudeville artist days.
We took a forest road up into the mountains, ultimately arriving at Encino Lookout. It took us some time to find the right spot; the logbook was a bit inadequate here, and the "old road" we were supposed to follow was all but invisible. I admire Bruce's patience with me, considering that I was prodding him to hike a considerable distance at an altitude of about 10,000′.
I neglected to get photos. Well, the lighting was wrong anyway.
Lots of meadows full of boulders up there. The area is a high plateau reachable only by gravel road. Very scenic, though, and lots of great dark sites for astronomy, if you don't mind sharing them with cows.
Many twists and turns later, we found ourselves searching for the right side track up to the rim of the caldera. I decided to trust Bruce's judgment, and it turned out he was right about which road to take. In fairness, the satellite shows the area covered with a network of firebreak roads. The road up to the top was … exciting … in a Cochiti washout kind of way. I think it would be more correct to say the gully was partially paved than that the road was badly gullied.
Still, worth the trip.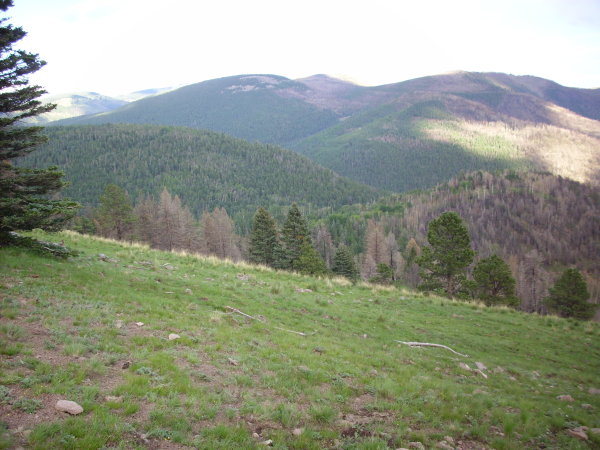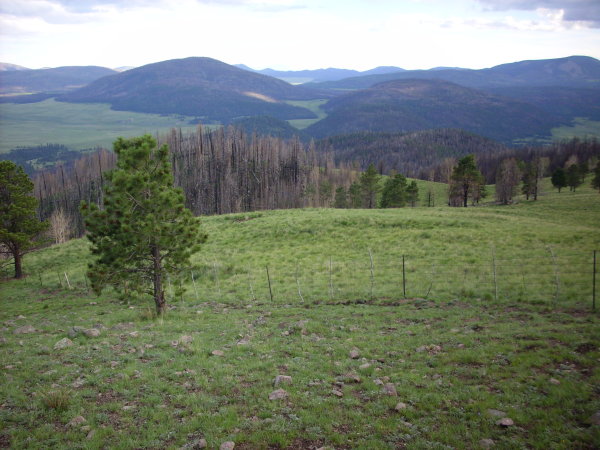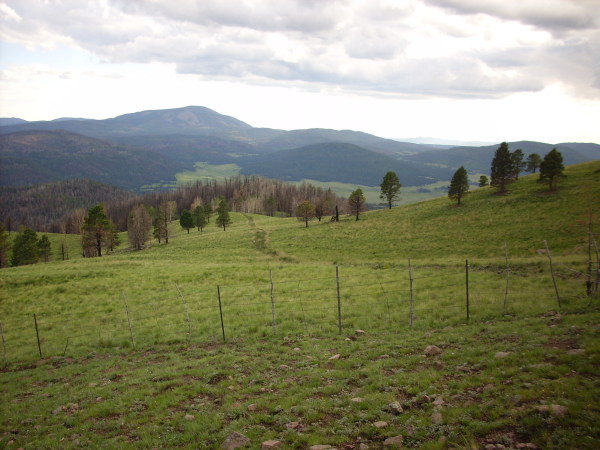 Barely visible under the tree on the left of the first photo is a little shrine, a cross made of rebar with a welded steel plaque with a name and dates. The final date has a question mark. I imagine that behind the shrine there is a sad tale of someone going up into the mountains and never coming back.
Took the wrong road off the rim; easy to do with the maze of roads up there. When we found ourselves heading the wrong way on a road that was altogether less gullied than we remembered, we turned back, found the right road, and started back down.
The road followed the rim east for some distance, with interesting geology and magnificent vistas. Got a good look down into the Toledo Embayment, which was long thought to be the source of the Otowi Member of the Bandelier Tuff; more recent work shows that the Toledo eruption was almost coincident with the current caldera, and the embayment is a bit of a mystery.
By now we are both pretty tired of geology, but our interest was stirred one last time by the prospect of taking a road cut through a shield volcano. This is Clara Peak and the road cut was pretty cool, with layered a'a flows that really made me think of Hawaii.
But at this point we were exhausted and it was getting dark anyway. Headed back to White Rock. Made noises about doing this again next spring. I will have to check the schedule for the Goff geology tour; that might be a good activity for next time.