An Independence Day carnival
This is primarily a science blog, and I am studiously apolitical. But I do post miscellany, including personal updates, from time to time. Today I'll be posting photographs of the Independence Day carnival held by my church in White Rock. If that's not to your tastes, fear not; I also have some geophotos I hope to post later today.
I am a member of the White Rock Ward of the Church of Jesus Christ of Latter-day Saints. We have a tradition of holding a community carnival on Independence Day, including a parade around a couple of blocks for the children. It's all great fun, it's for the entire community, and it's all free. I usually get recruited to help in some way with setting up, running, or cleaning up the carnival, and I'm glad to help. This year I arrived early to help with setup and ended up taking a fair number of photographs.
Setting up for cotton candy.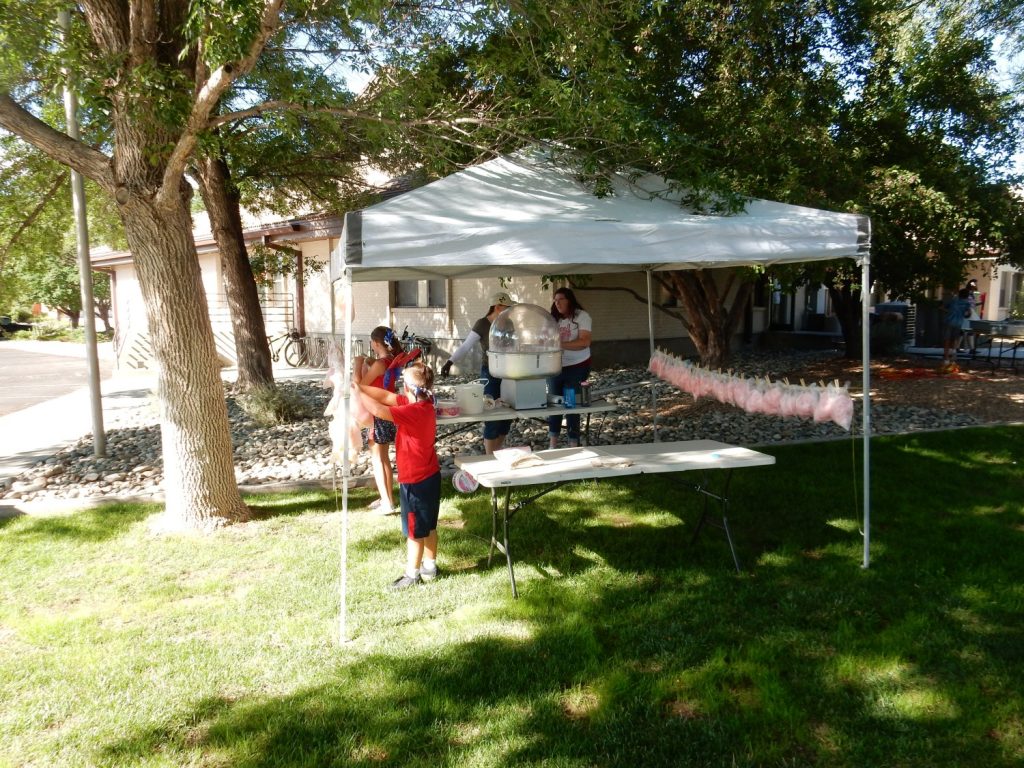 This is the special bailiwick of my friend and colleague, Jeremy Conlin, who bought himself a cotton candy machine a few years back. For me, cotton candy has the advantage that one can get a mouthful of taste without actually consuming very many carbohydrate calories. If I heard correctly, Jeremy ended up converting about 25 pounds of sugar into cotton candy over the course of the carnival, which is actually quite a lot of cotton candy.
The carnival area.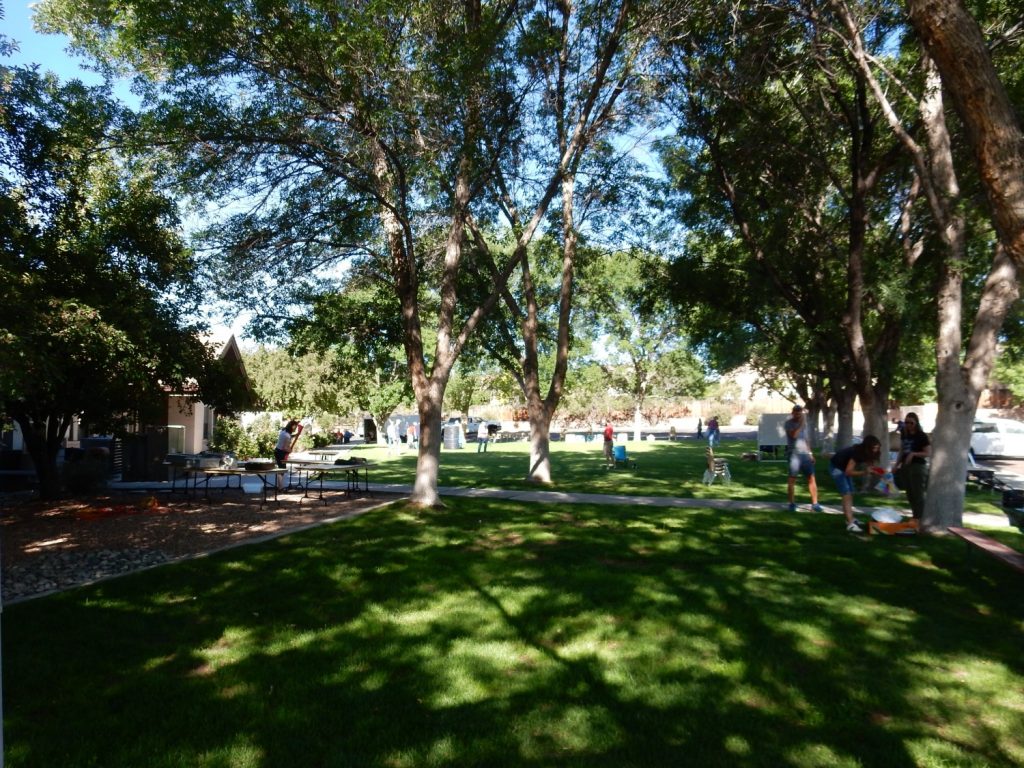 This is north of the church, where there are several (now very mature) trees giving shade to a sizable lawn. The remainder of the church grounds are xeriscaped, but this oasis is great for these kinds of activities.
Setting up the snow cone area.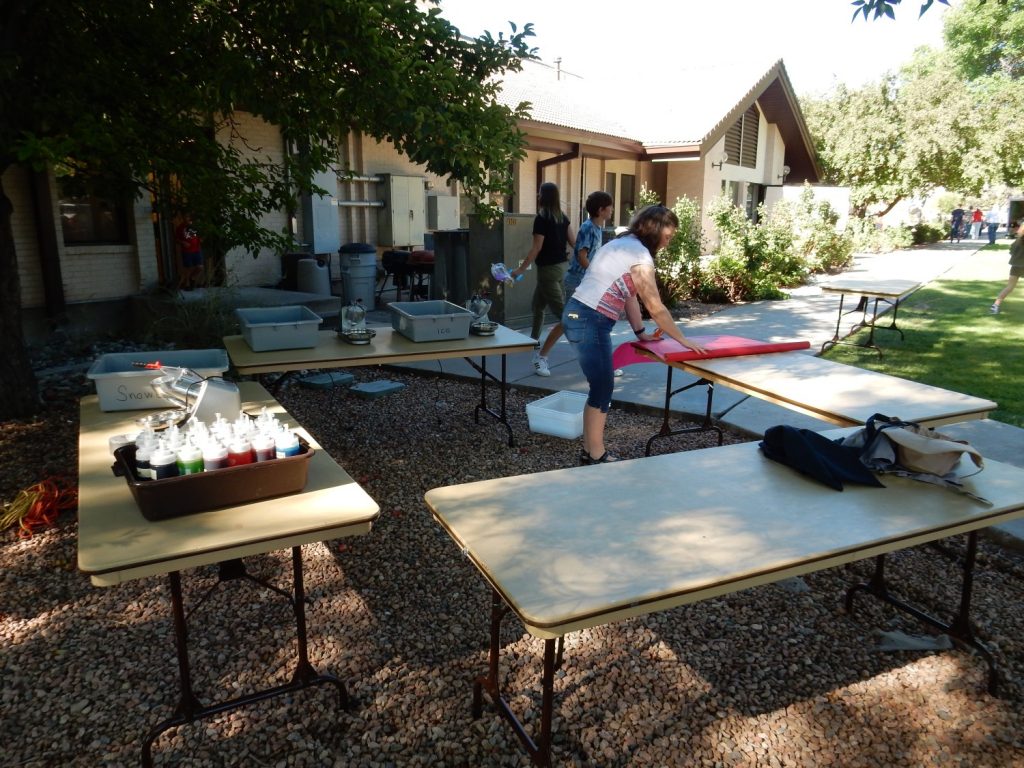 I'm told that about three hundred pounds of ice got converted to snow cones during the carnival. It's a great thing in the heat, though when I asked if there was a sugar-free option, I got handed a bare cone full of ice shavings by someone who knows me well and has a piquant sense of humor.
Man in charge, supervising.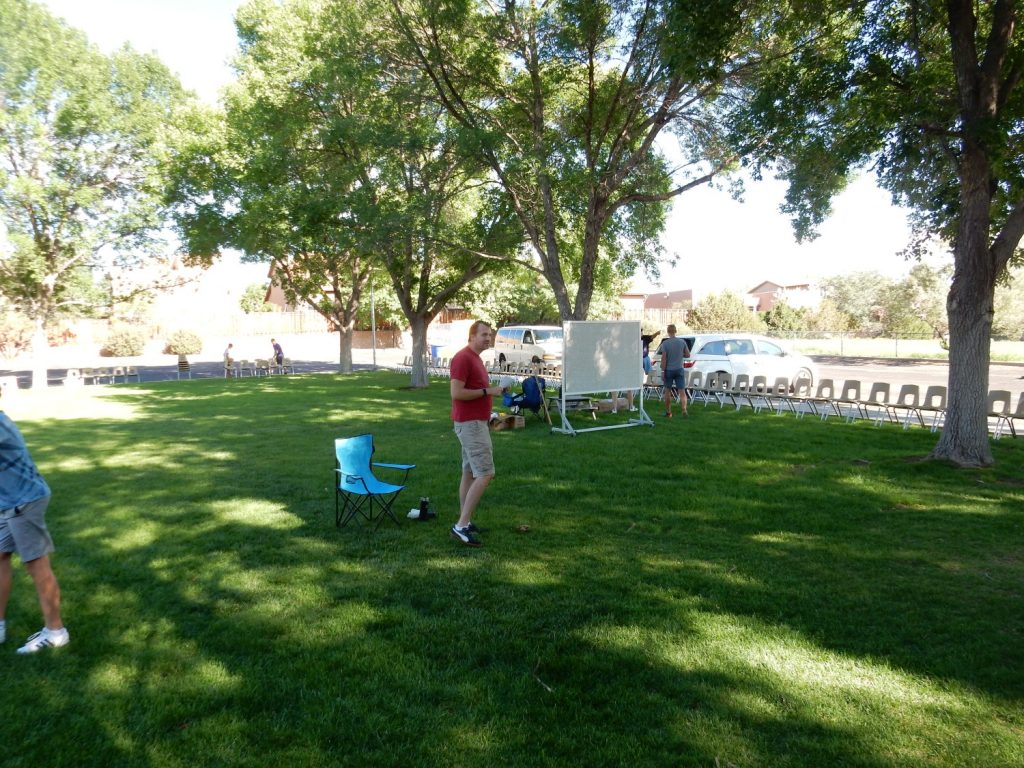 Not that much supervising required. We've been doing this for over thirty years, and our members have the drill down pretty good.
Preparing the bouncy bin.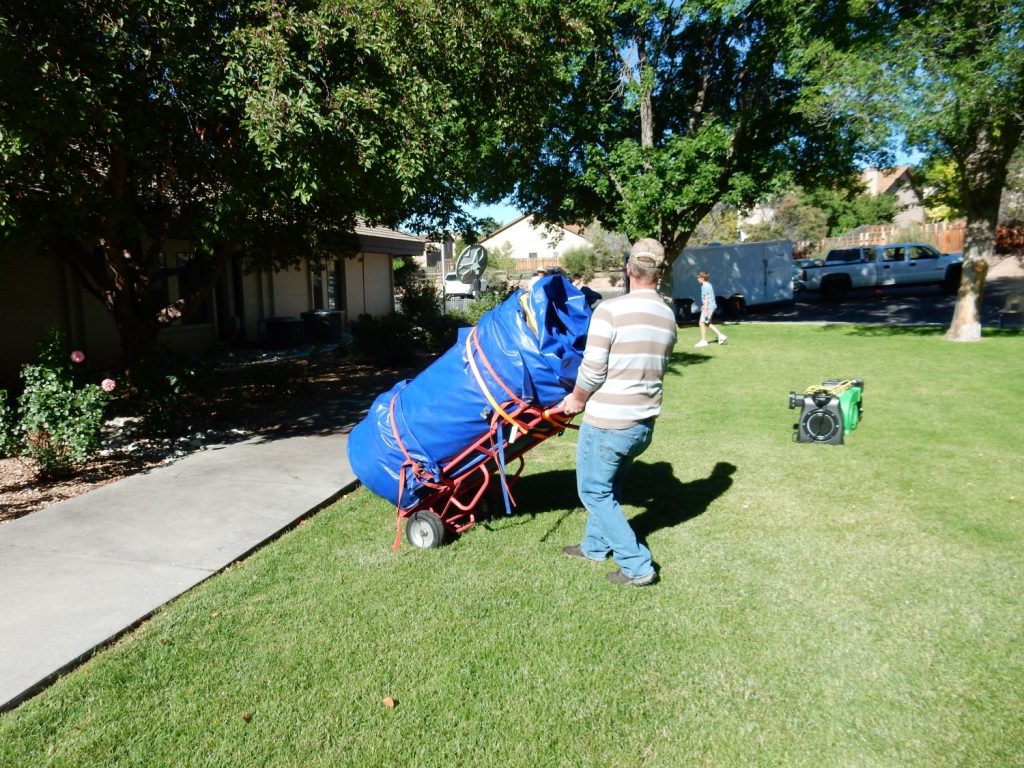 I just had to photo the bow.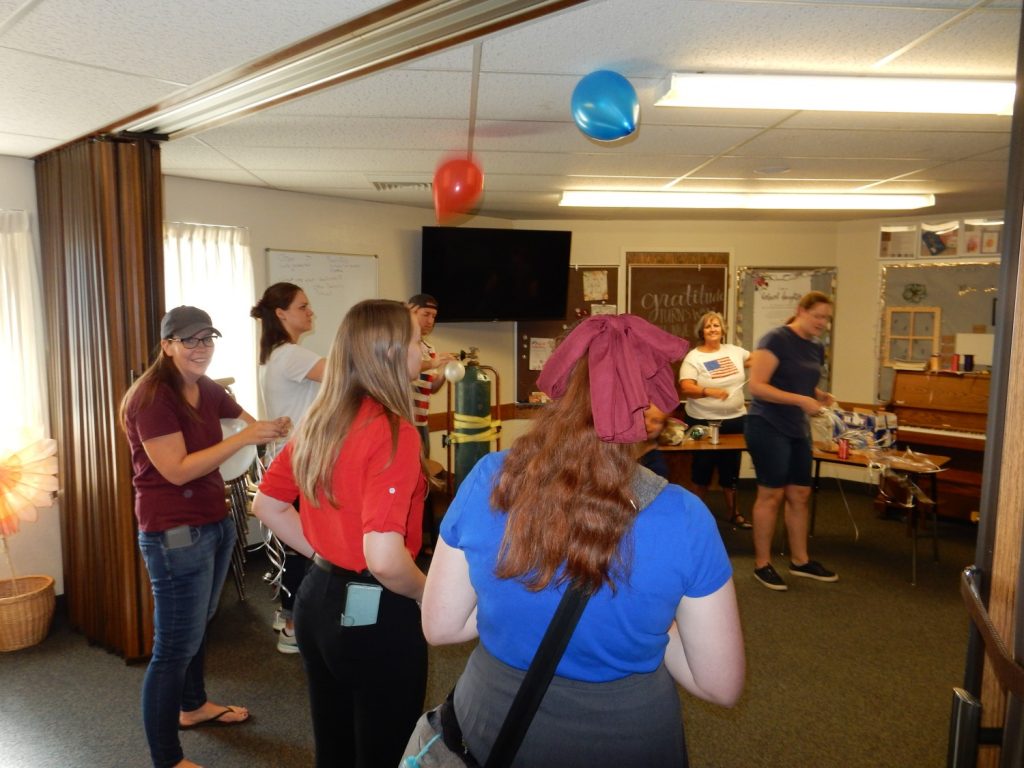 Preparing balloons. There was a steady popping, not of firecrackers, around the building through most of the morning.
The official sign on the street side of the church.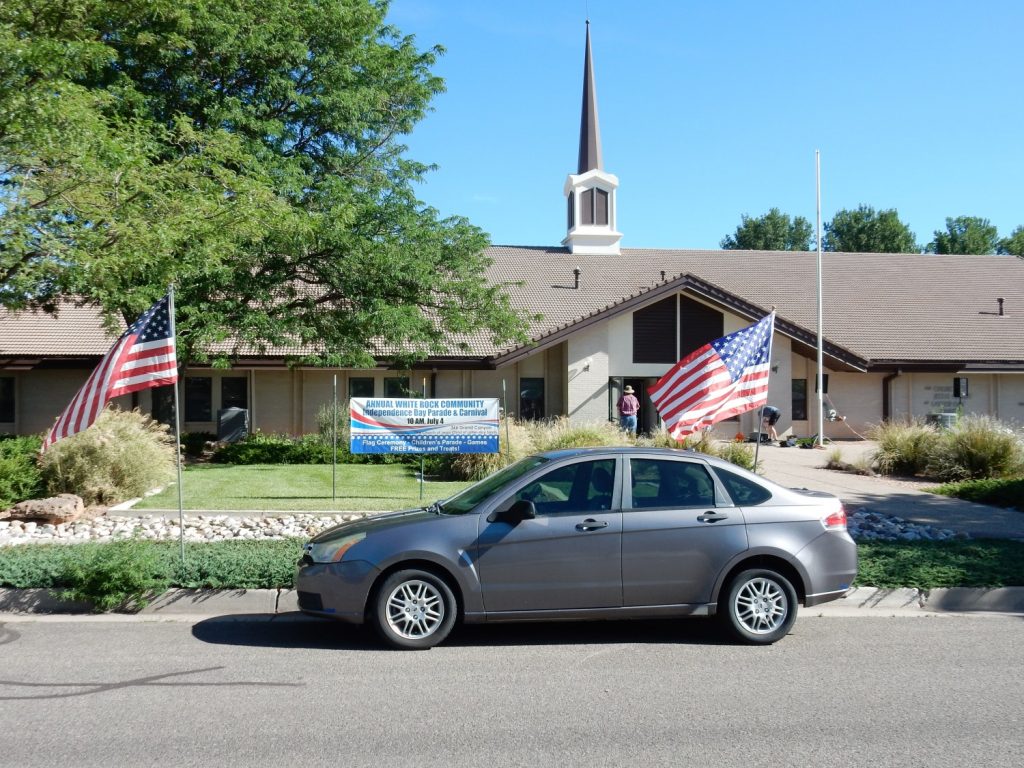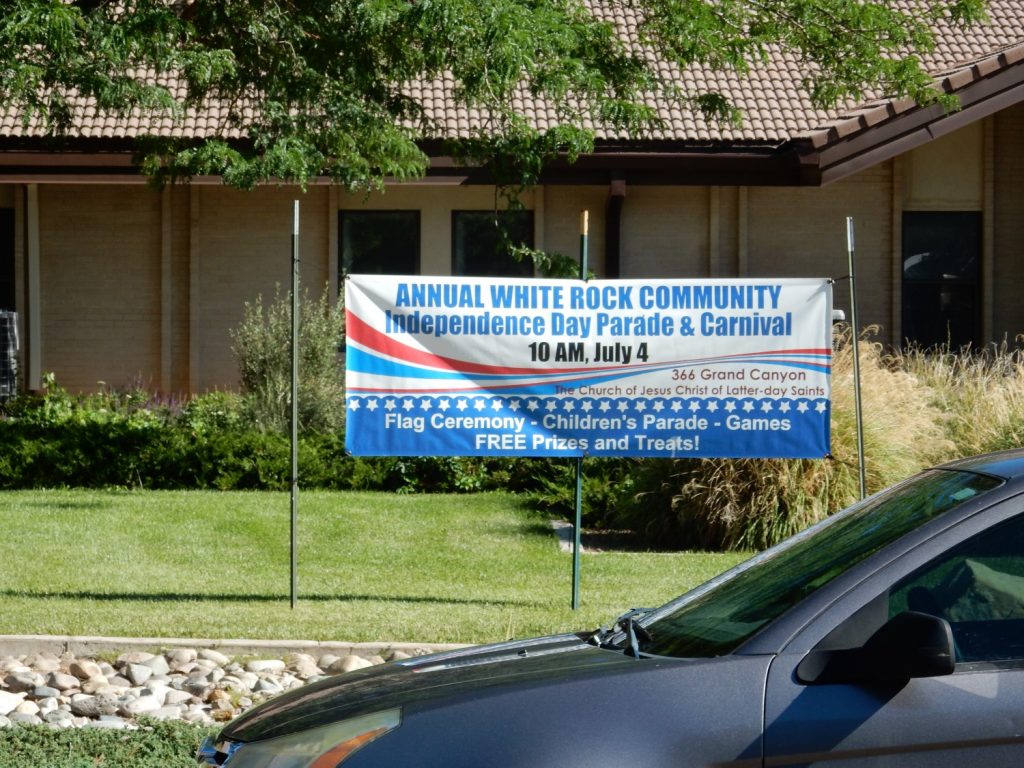 It's a beautiful clear morning. We had some significant monsoon weather roll in in the afternoon — always welcome in this climate — but it politely waited until we were done with the carnival.
Running power cords out the window.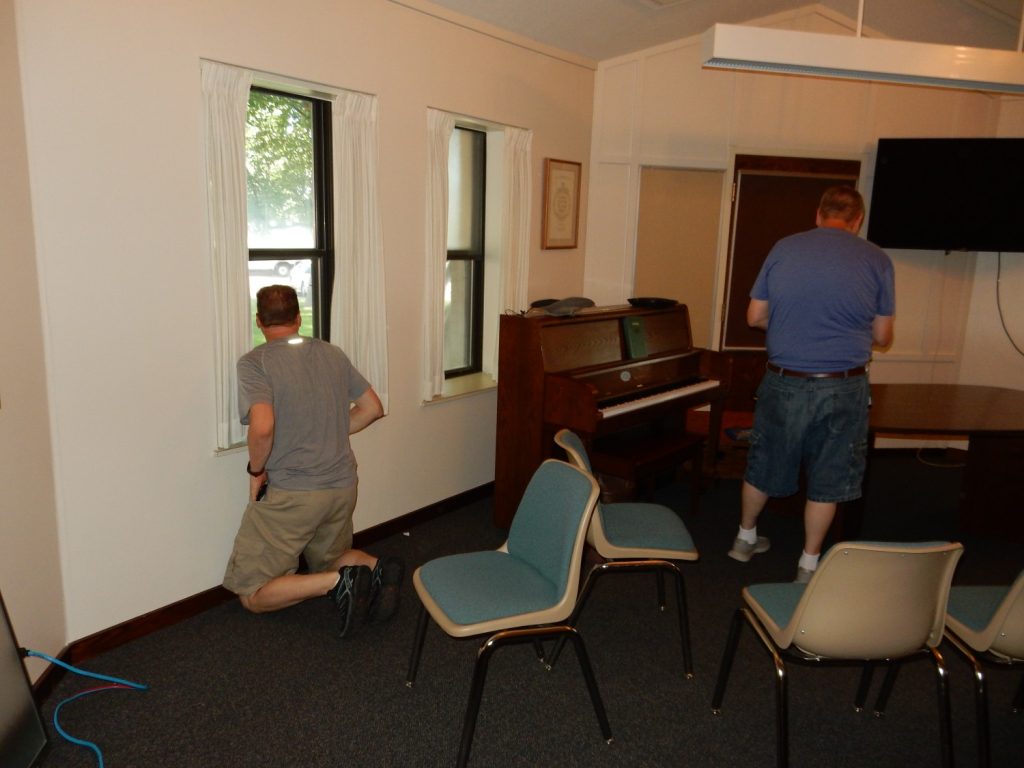 Preparing the kitchen for popping popcorn. If I heard correctly, some 50 pounds of popcorn was popped and consumed over the course of the carnival.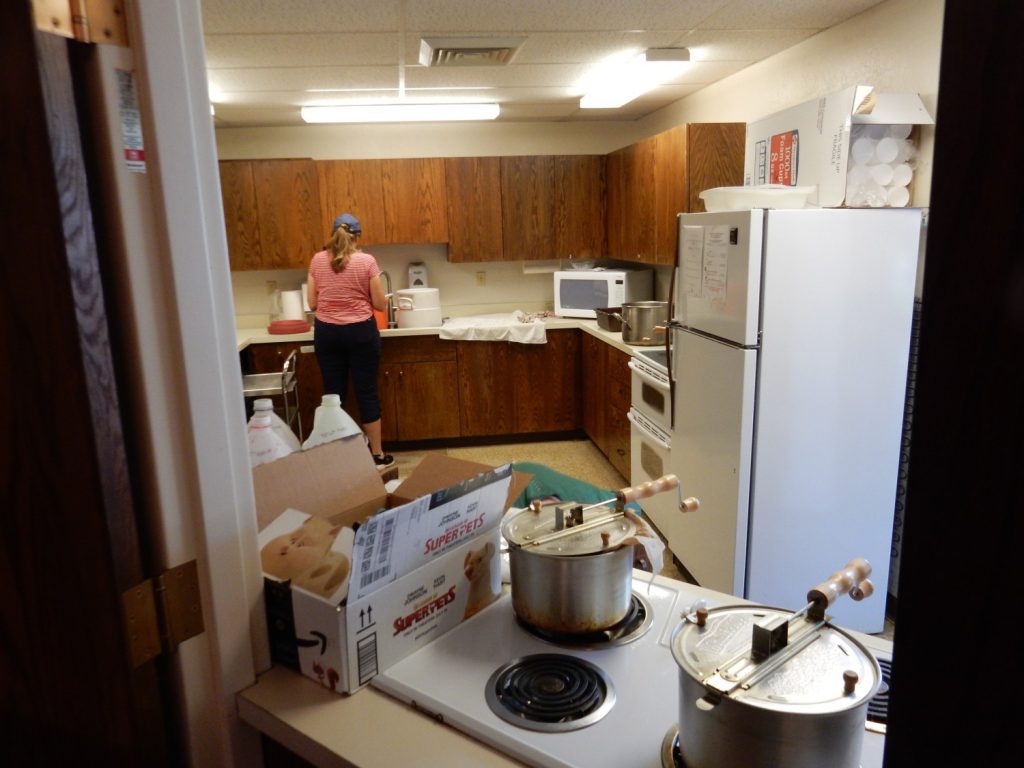 Bouncy bins set up and running.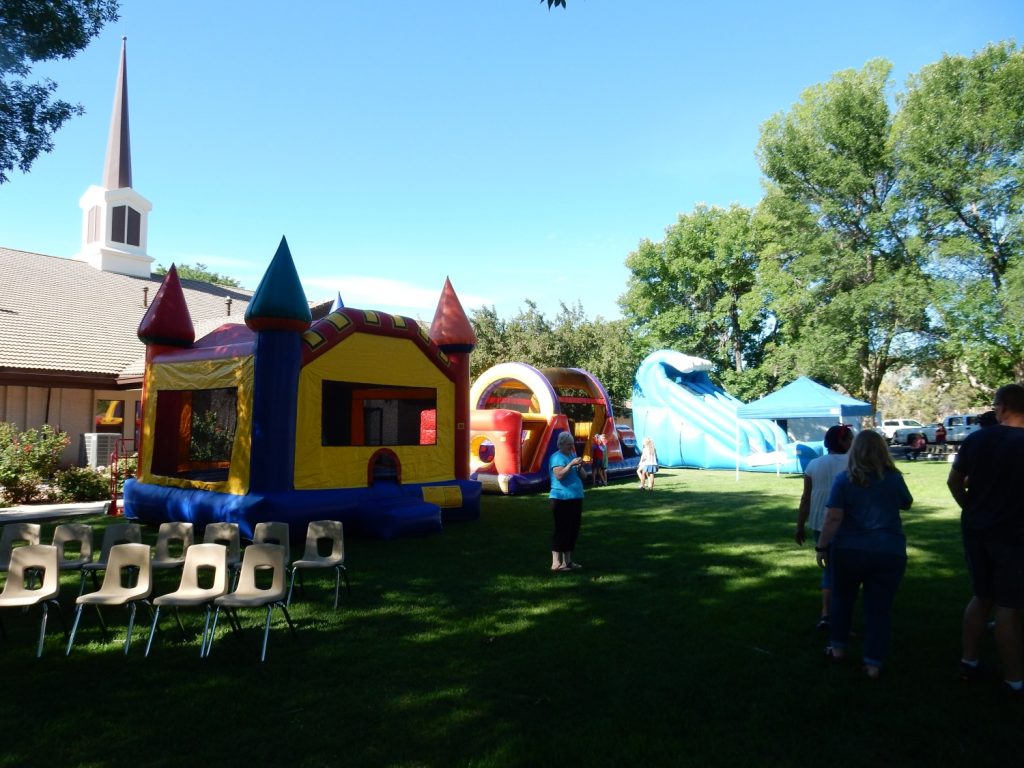 Snow cones ready to go. That's Cindy at far right.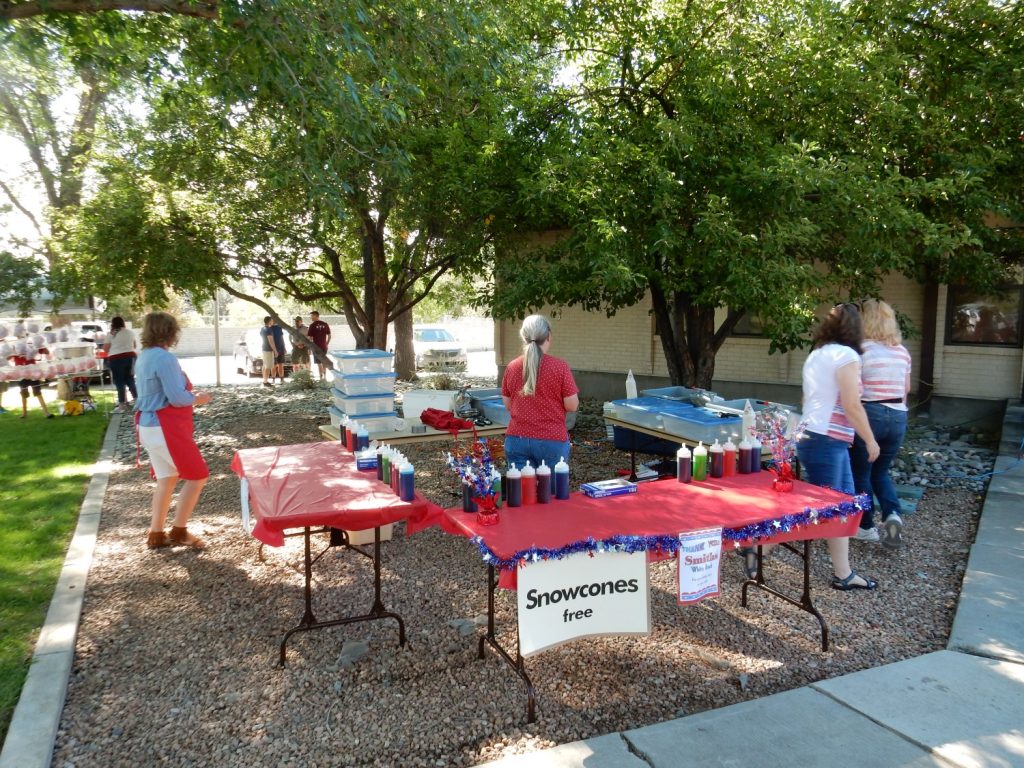 Jeremy poses for the camera.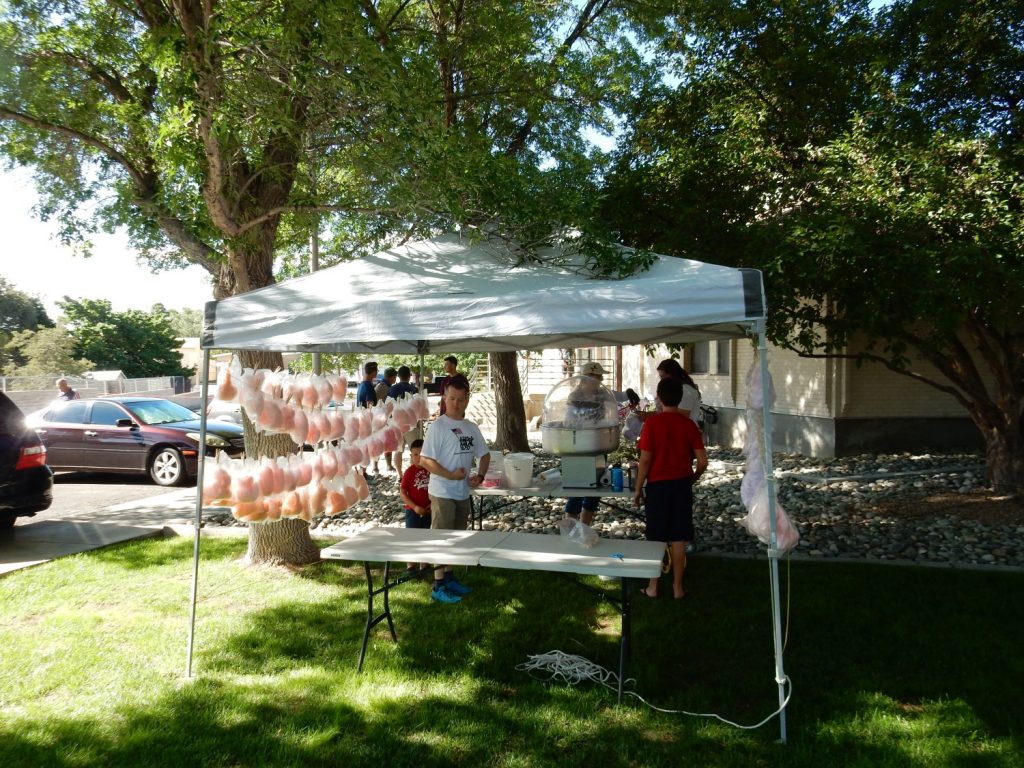 Balloons begin to be handed out.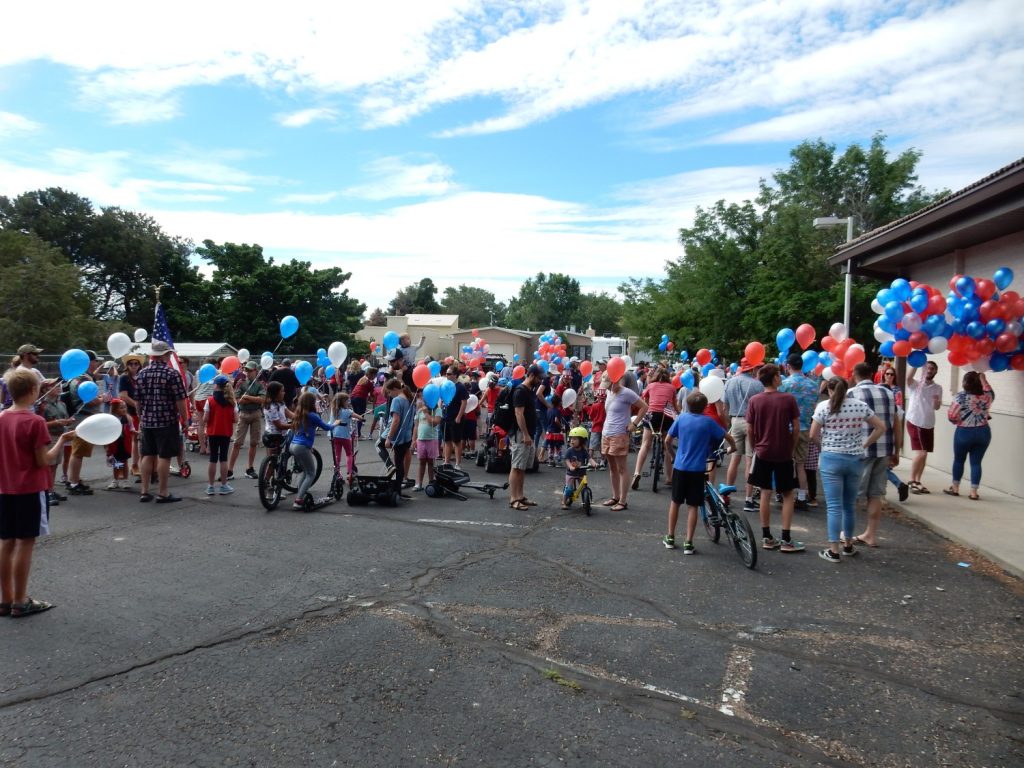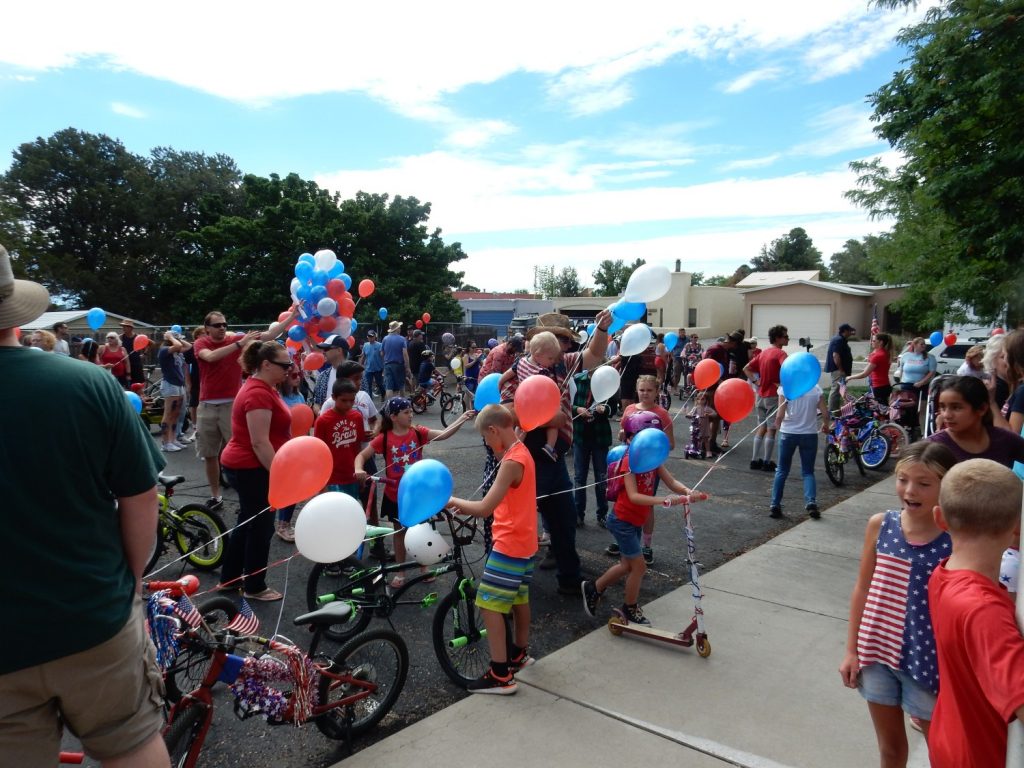 Preparing for the flag ceremony.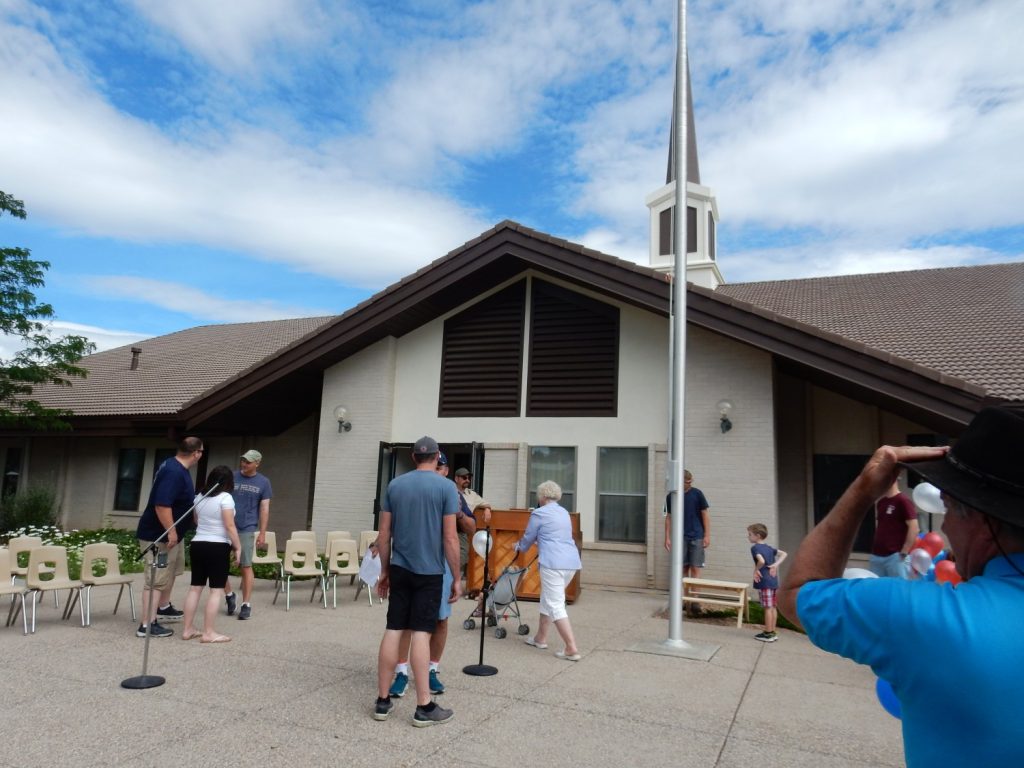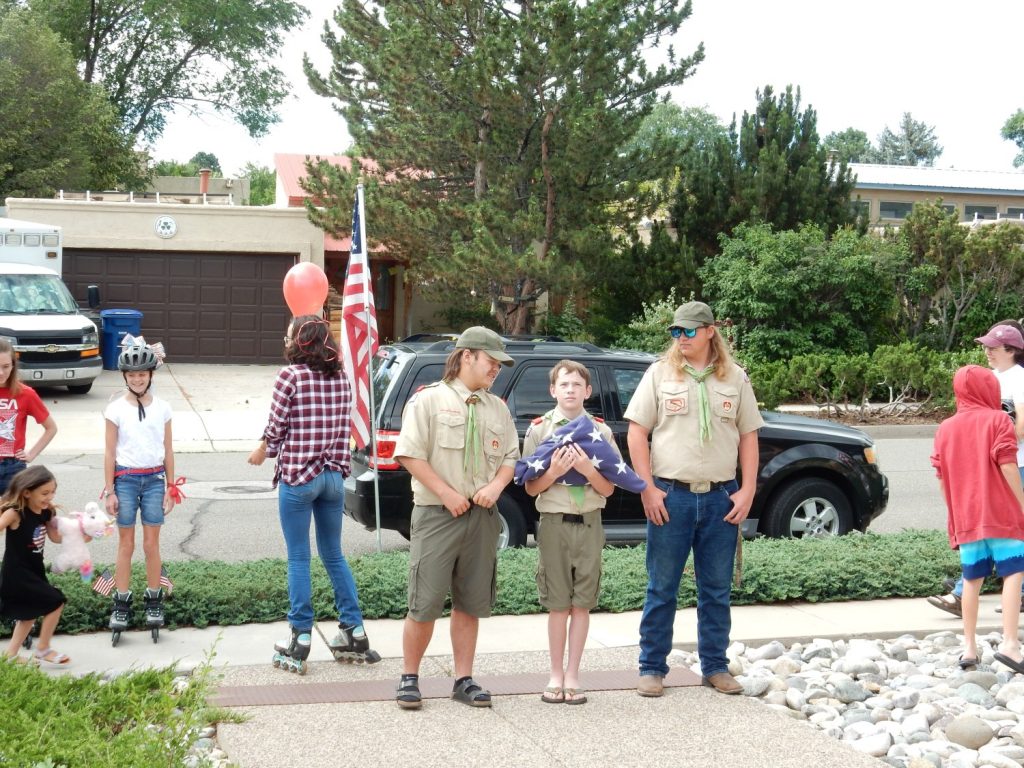 Bishop Christensen opens the ceremonies.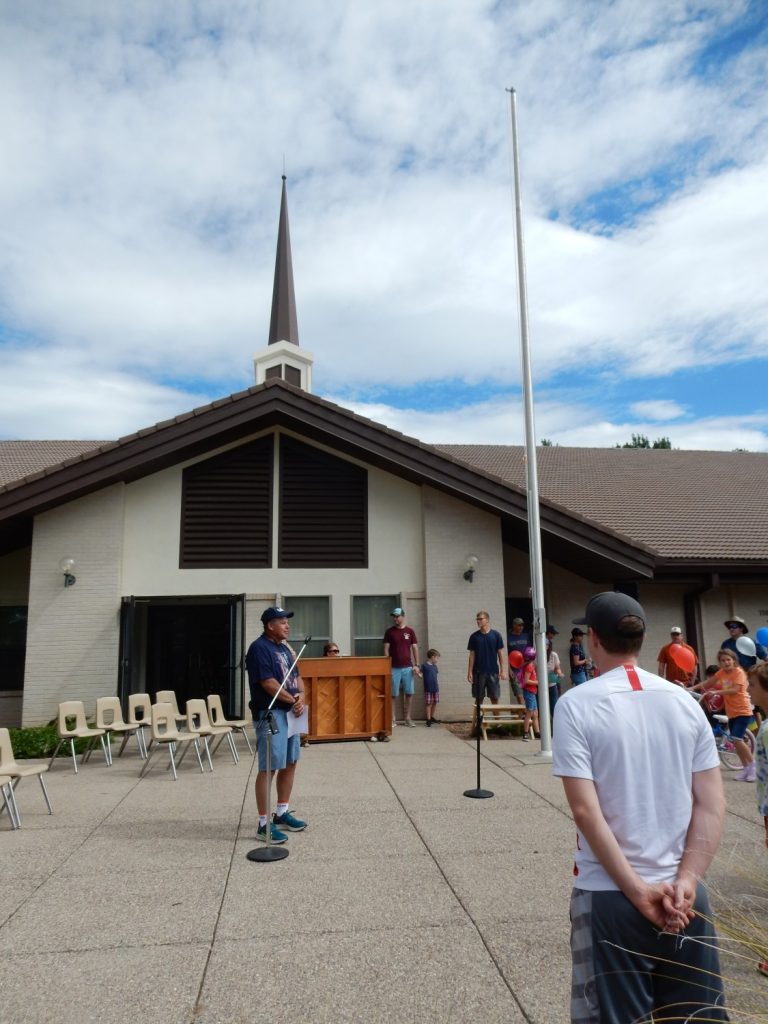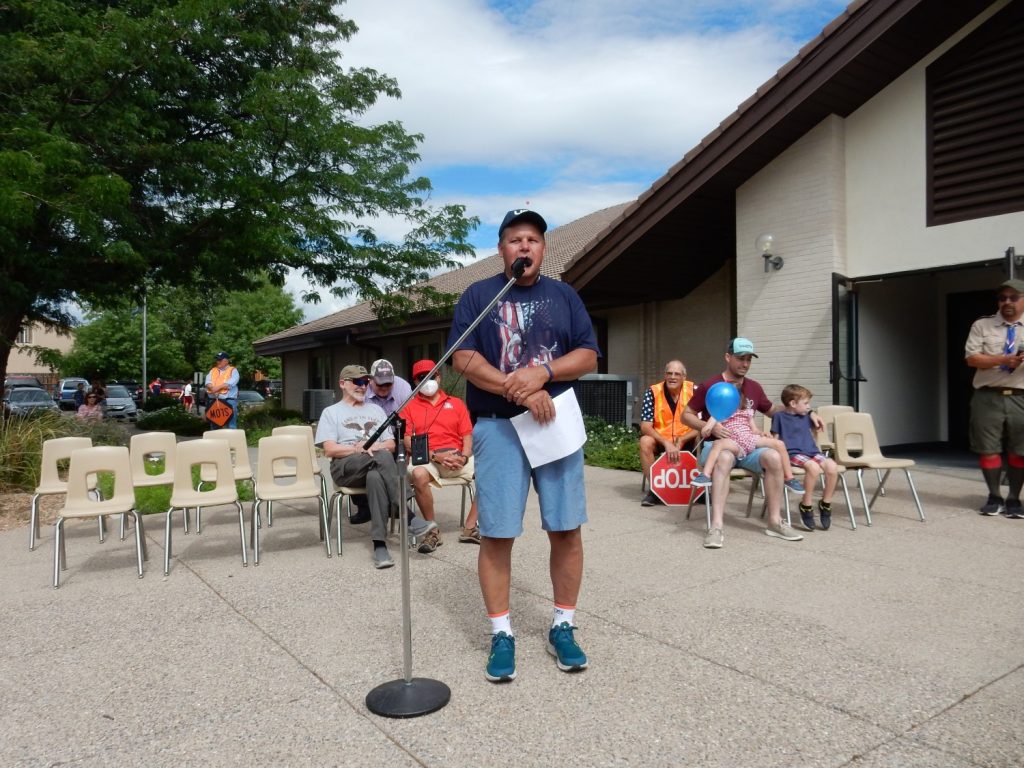 The colors advance.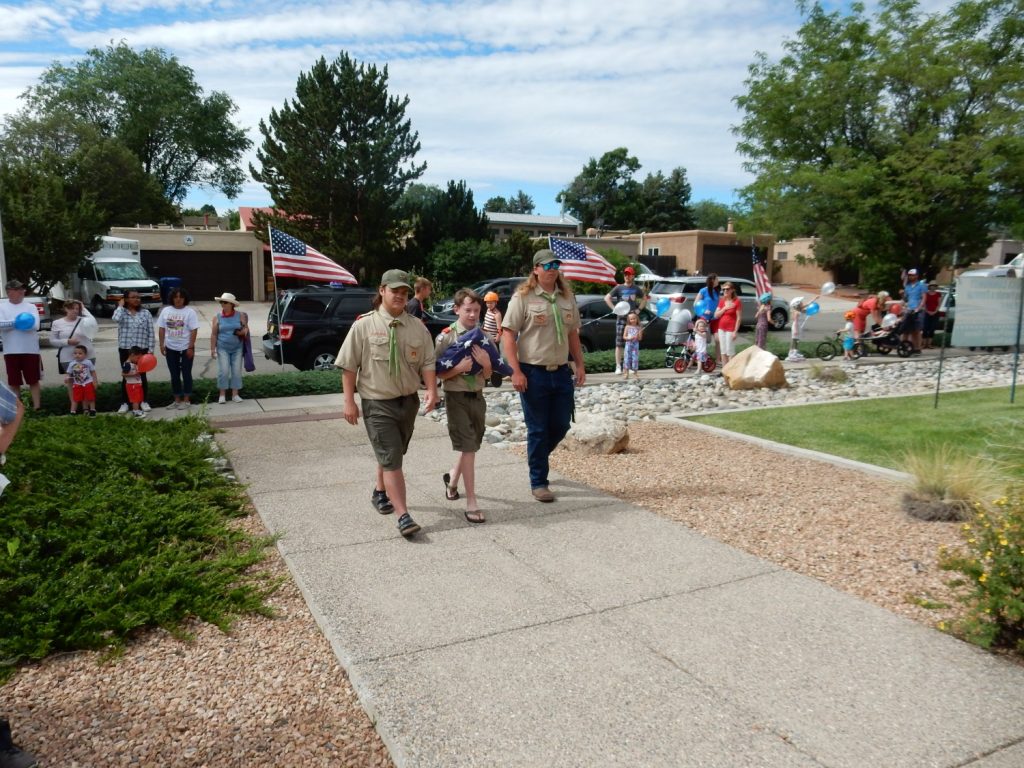 and are posted.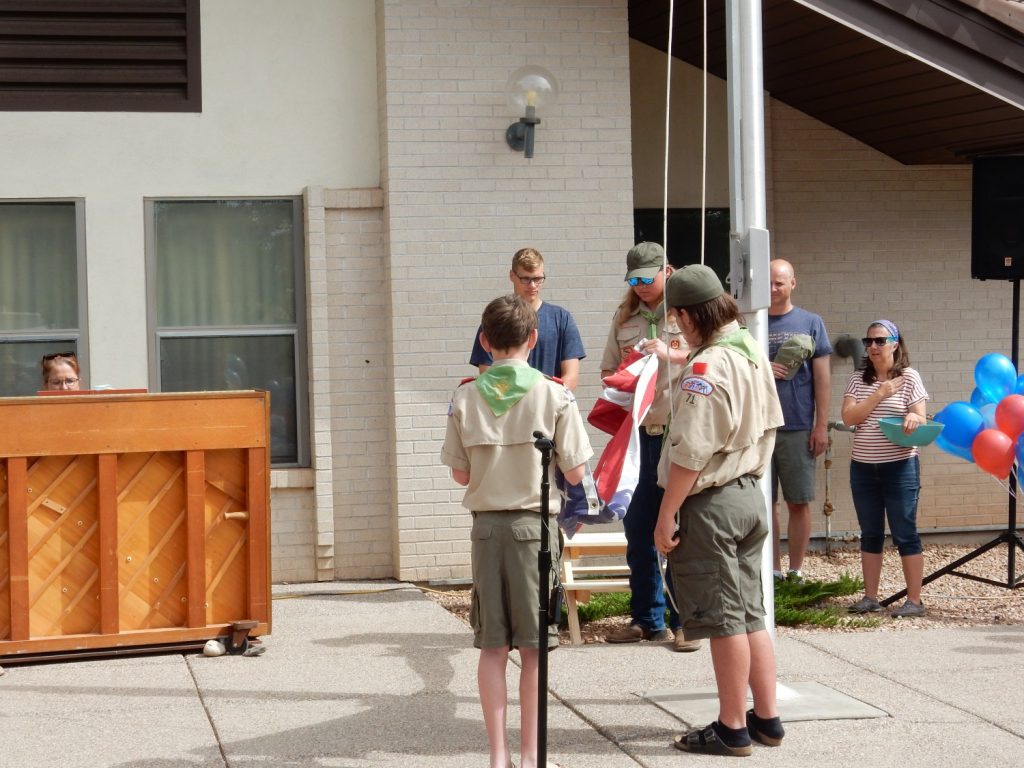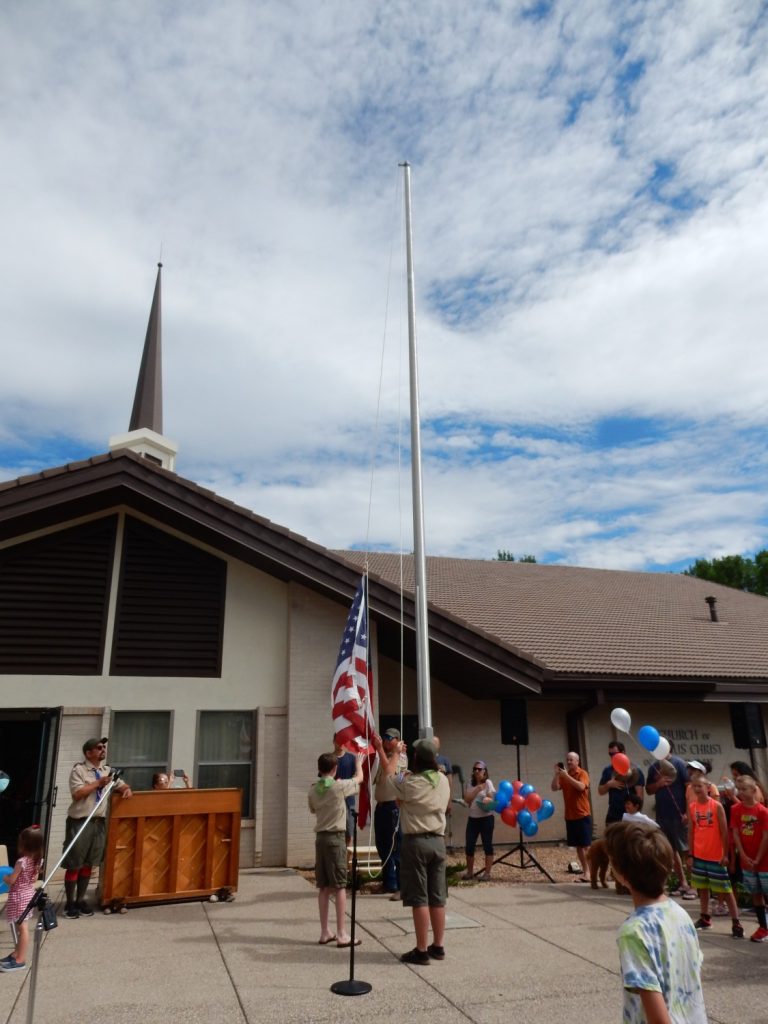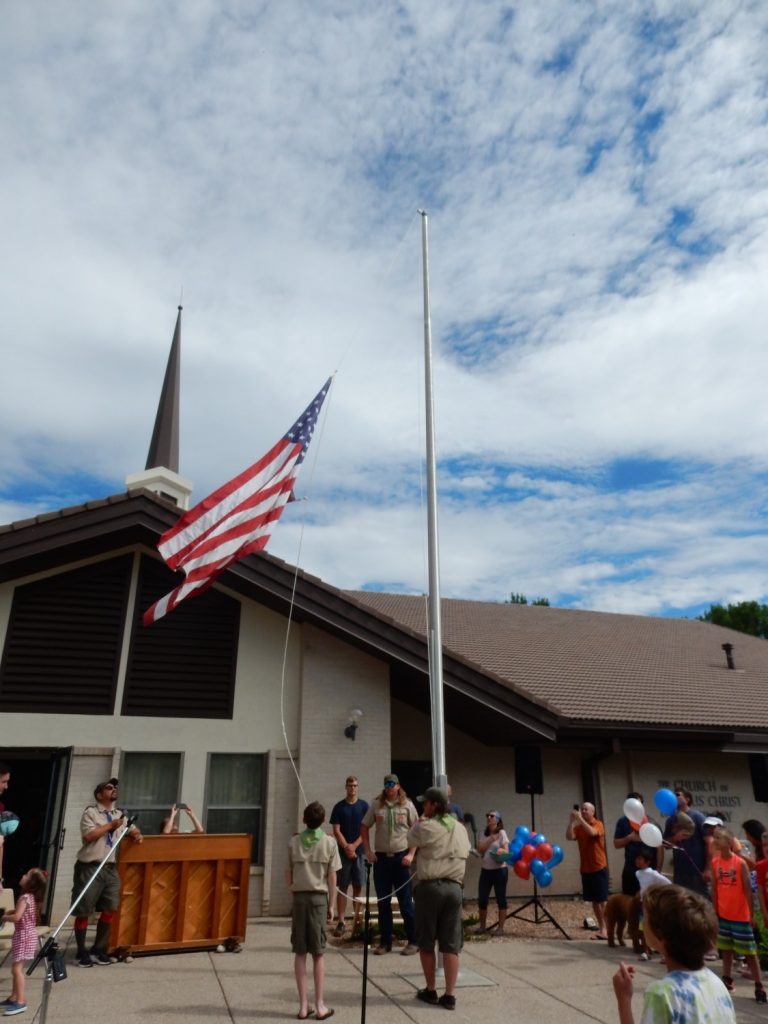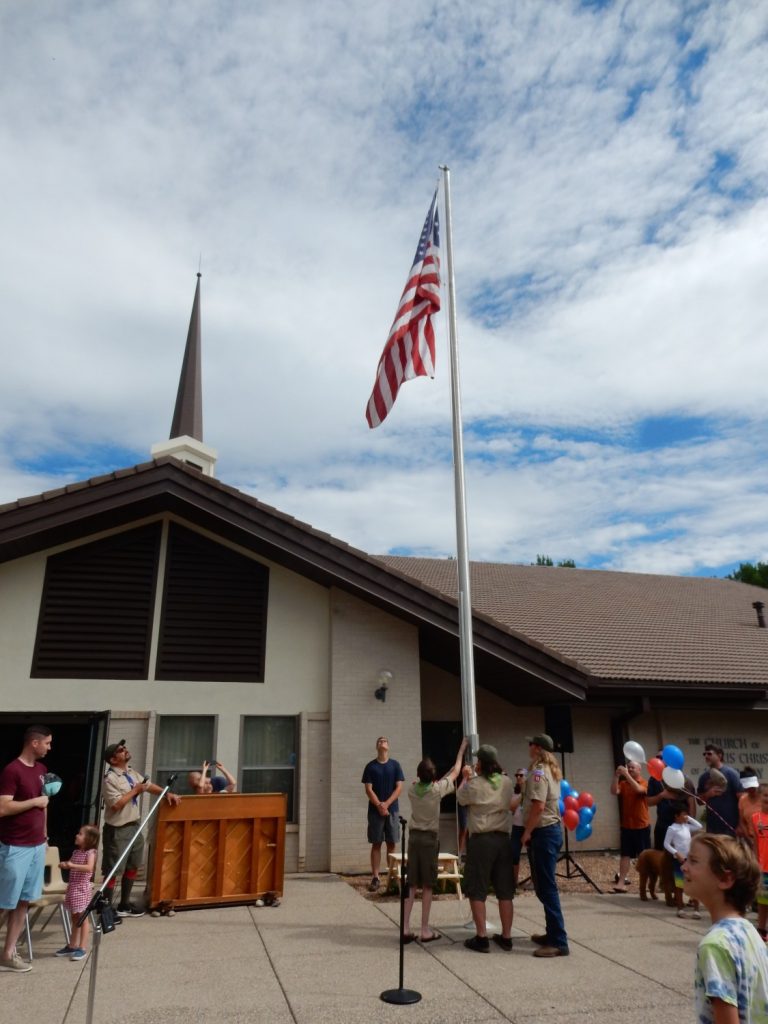 Our Primary Children (children under age 12) sing the National Anthem. (They're pretty good about the high notes.)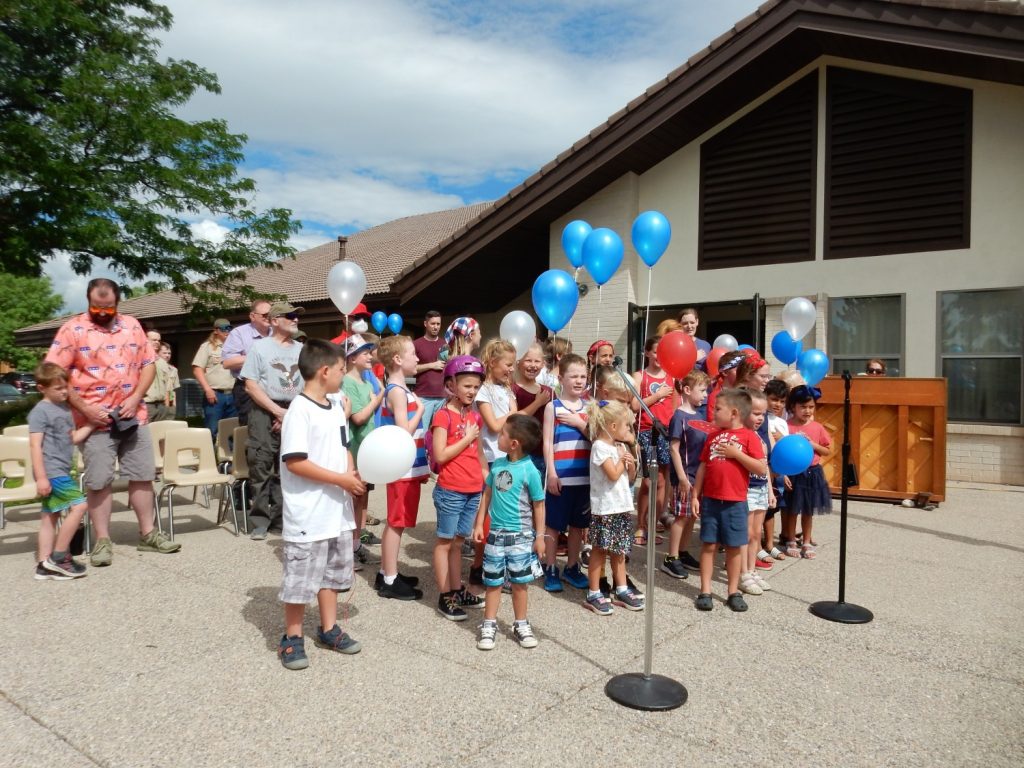 John Carpenter, counselor to Bishop Christensen, talks about his immigrant ancestors.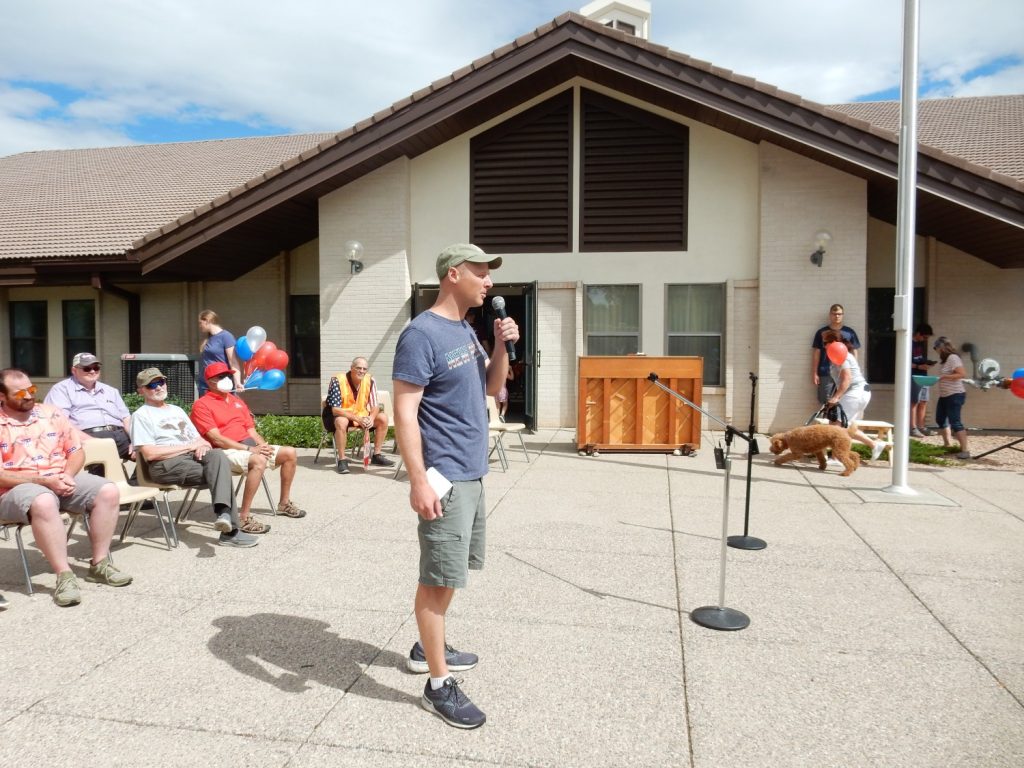 The parade forms up.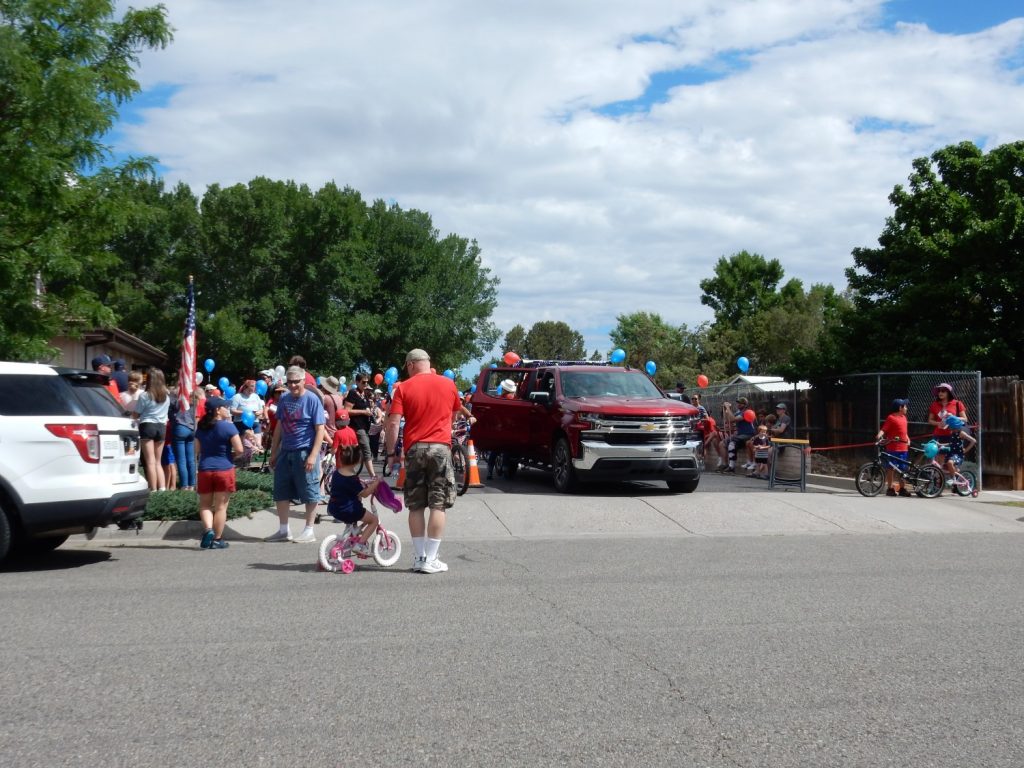 We have police escort.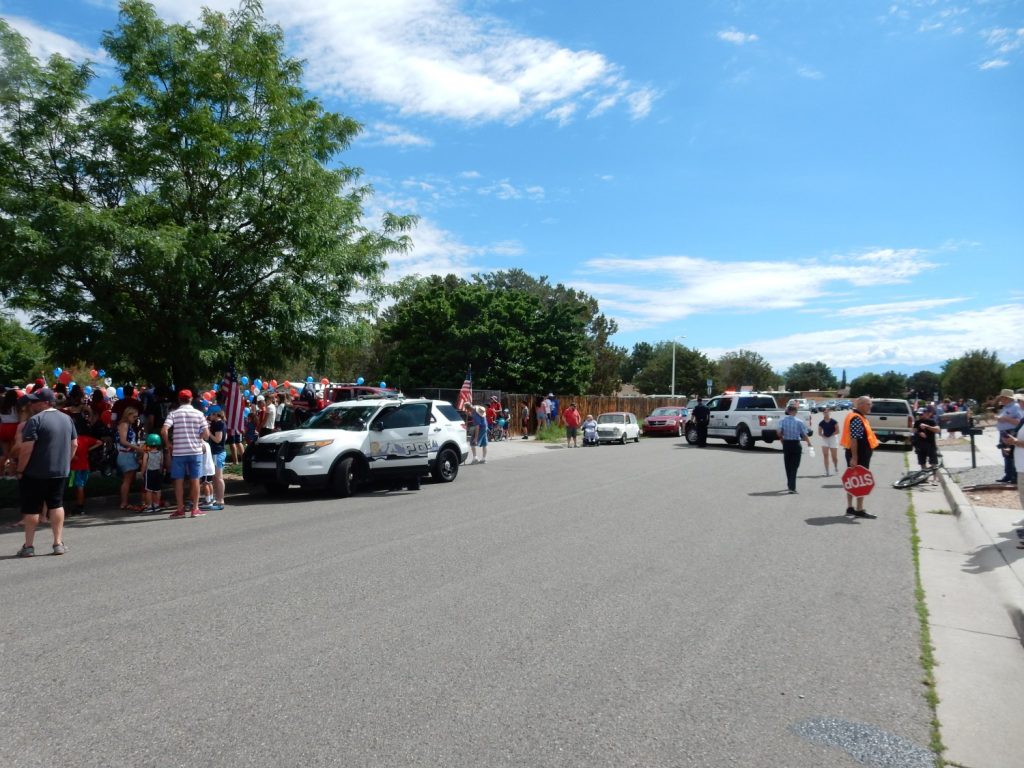 Moving out.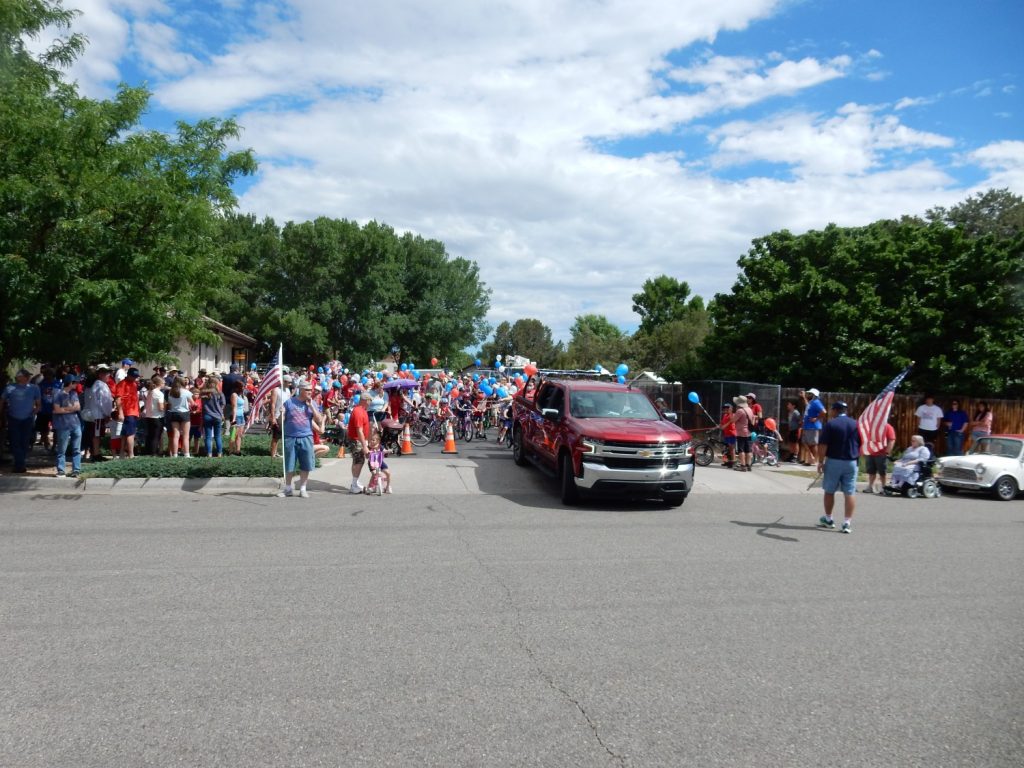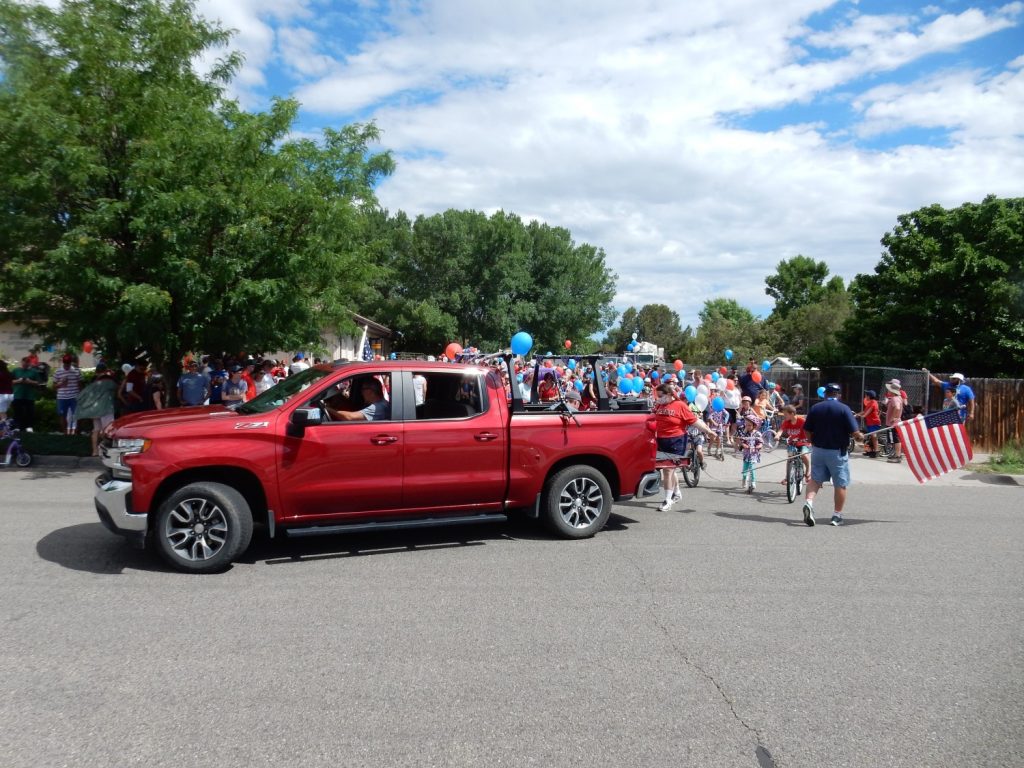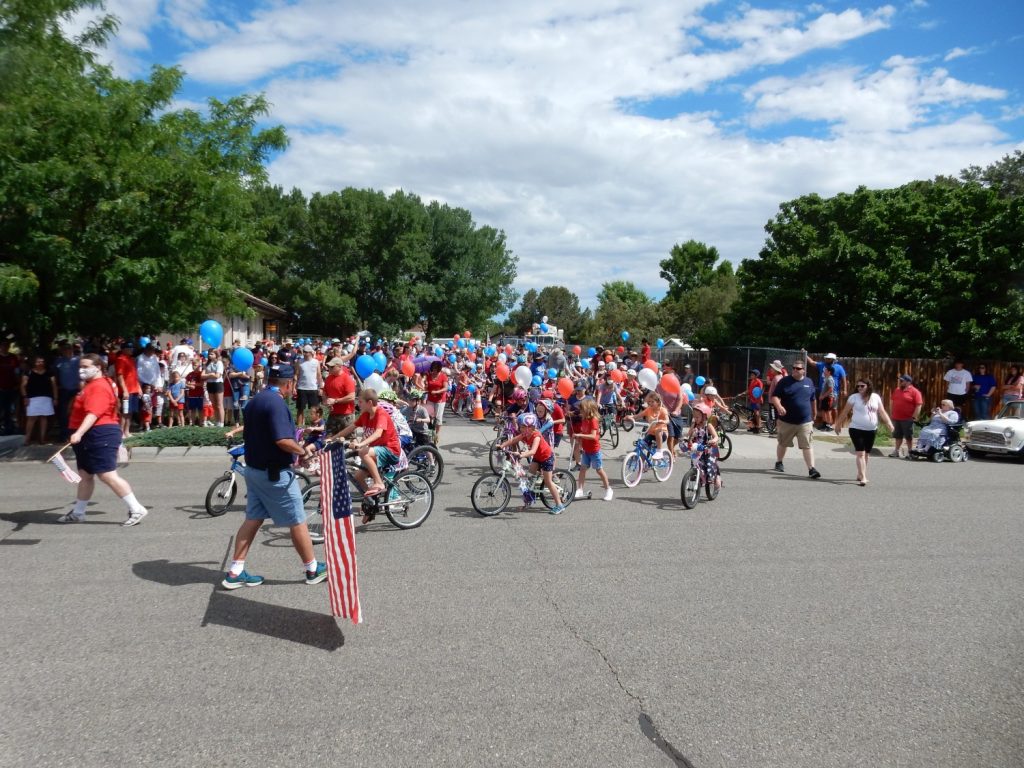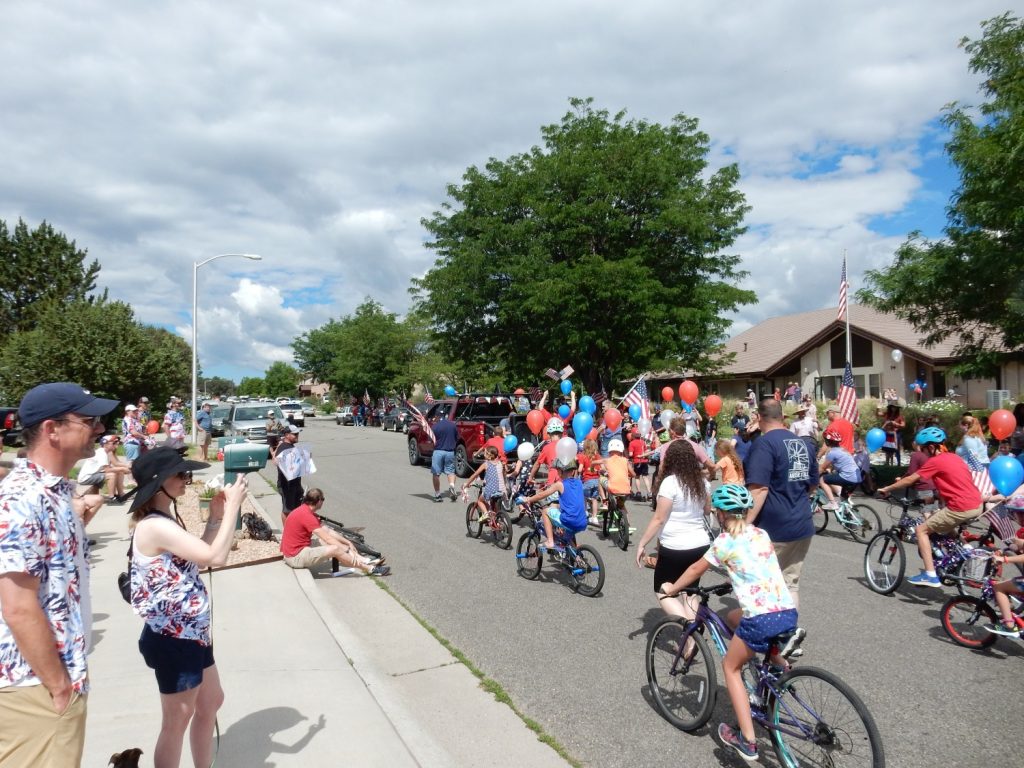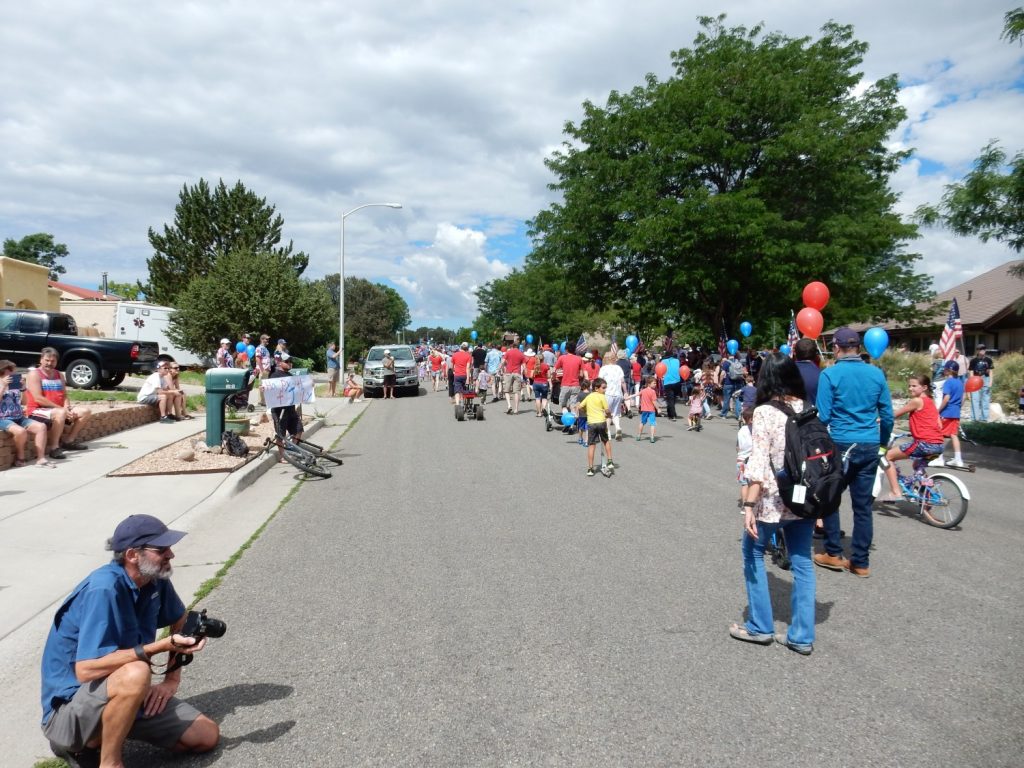 Once the parade has returned, the carnival activities out back get going in earnest. Distributing balloons.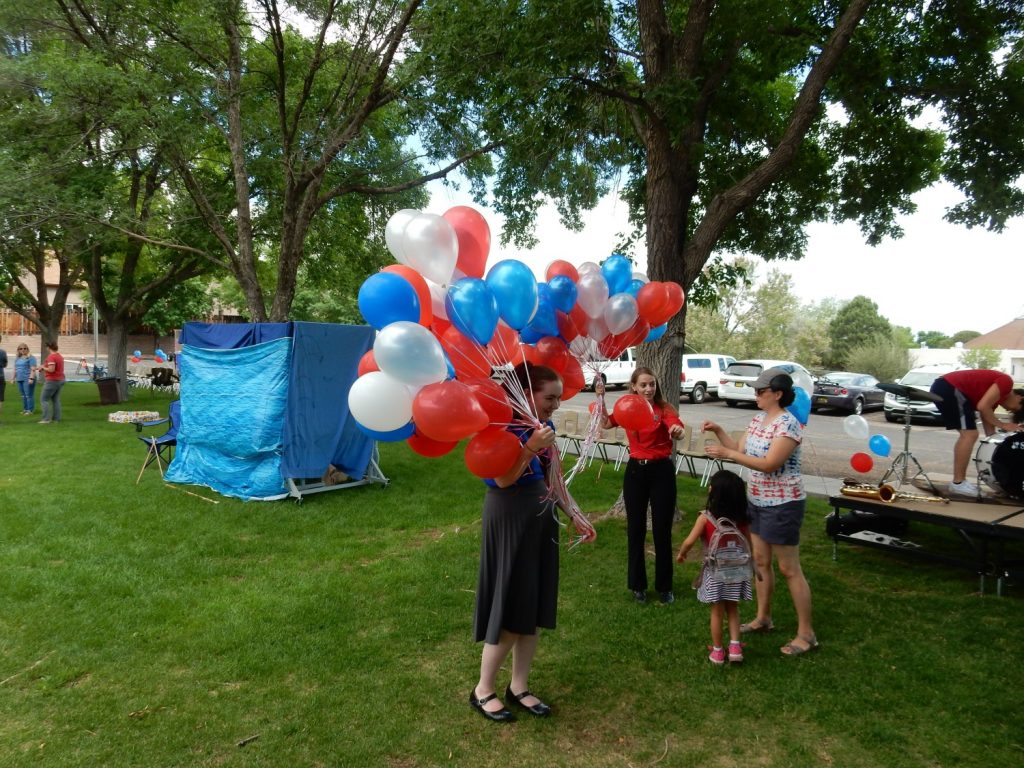 Getting popcorn ready. I spent much of my time helping hand out popcorn.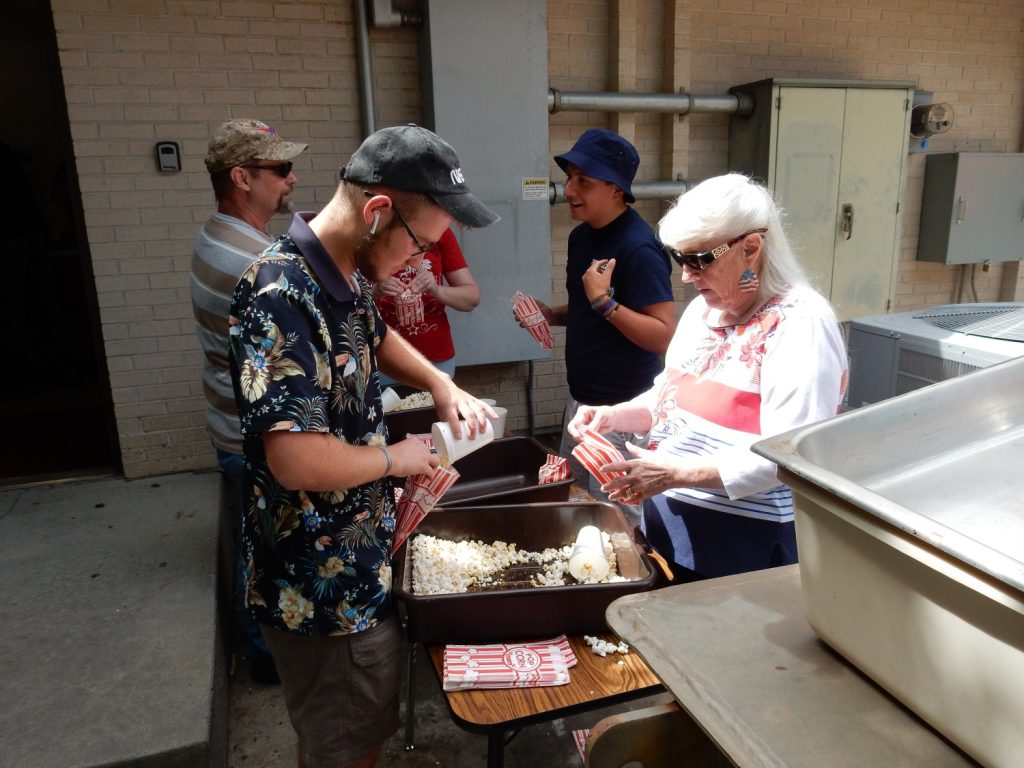 Los Alamos High School Jazz Ensemble.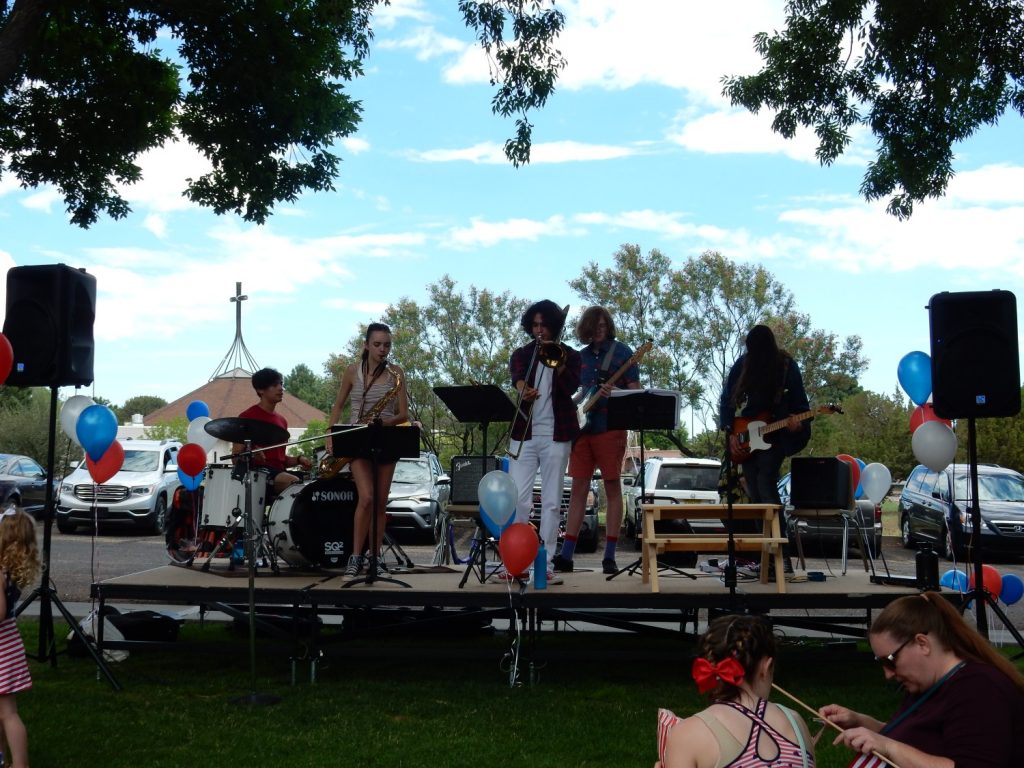 Other activities include various kinds of games for children and facepainting. The activities go into early afternoon before we wind it up (often because the weather is closing in by then, as it did this year.)